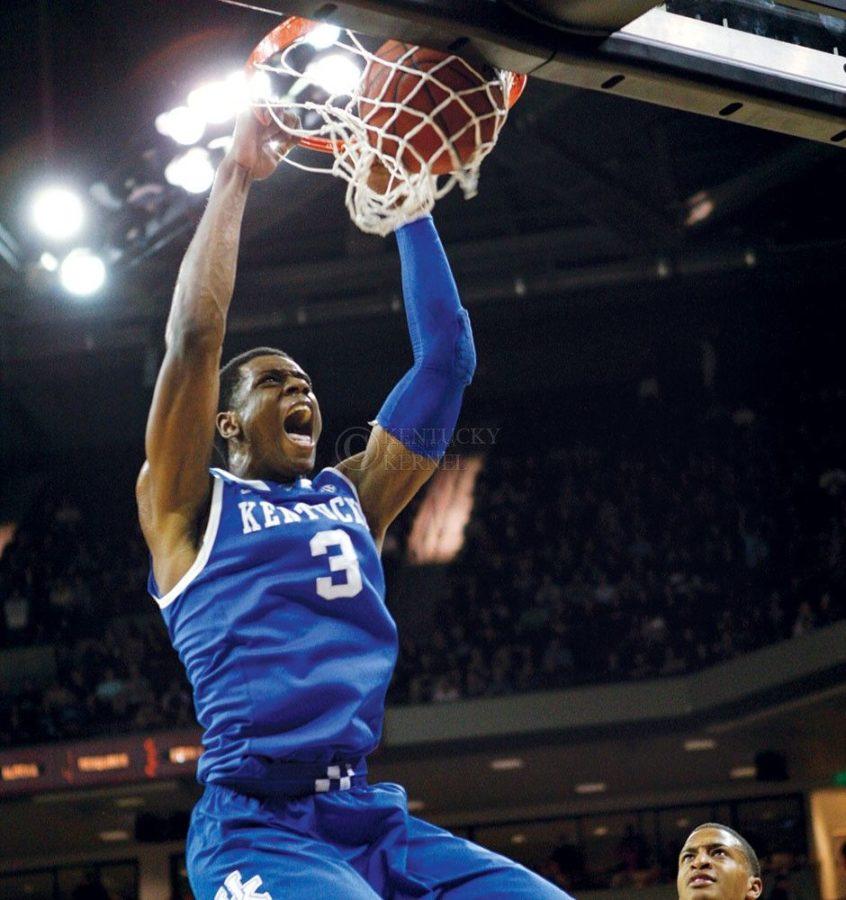 Florida guard Bradley Beal said over the weekend that he and his team wouldn't be intimidated coming into Rupp Arena, wouldn't be daunted by facing No. 1 UK.
"We have the swag where we're going to compete hard and try to get the win," Beal said, according to The Gainesville Sun. "We're not going in there with any doubts just because they are Kentucky."
But UK's got swag to match.
"Confidence in your own style of play," Terrence Jones said when defining it for a group of reporters who may or may not have actually known what the word means. "I think we have a lot of it, too."
UK will need plenty as it embarks on the portion of the SEC schedule that actually poses a challenge.
The opening SEC slate featured nine games against seven opponents. Those teams are a combined 19-38 in conference play.
The upcoming slate features seven games against five opponents. Those teams are a combined 22-18. Take away Georgia, and that record moves to 21-11.
So yeah, it's about to get tougher.
It's also a chance for UK to prove its recent dominance has been more a product of its own play and not its opponents' vast inferiority. The Cats are No. 1 for a reason, to be sure. It can solidify that thinking over this next stretch.
To do so, UK will have to find a balance in its mentality. Calipari said he would talk to his team about staying humble through its achievements.
"There's an easy transition from a swagger to arrogance," Calipari said, "and that's where you get beat."
This statement led to the questions about swag. Of all the intangibles that could be talked about with this game — leadership, heart, even Calipari's favorite will to win — it's a word that also doubles as a description for clothes.
I sometimes wonder what players like Jones really think as they have to stand against a wall and talk about the merits of such things.
Regardless, Calipari wants his team to have swagger, but not too much. It's the old confident-not-cocky mantra of finding that fine line between two inexact characteristics.
To do so, UK needs to remember what got it to where it is now — a 23-1 record , a No. 1 ranking — and what started the designations as best team in the country.
Which also becomes one of the things we talk about when a team has so much going for it. After beating its last three opponents by a combined 83 points, have the Cats peaked too early? It is, after all, early February.
Calipari said he believes in the theory that a team can peak too soon.
"I've seen teams come out of the gate and I'm like, 'There's no way they can sustain this,'" Calipari said. "There's too much road between now and the end of the season."
UK still has plenty of road left. Seven regular-season games, then (for the situation that matters most) three SEC Tournament and six NCAA Tournament games.
But Calipari doesn't think this team has maxed out yet. He noted defensive breakdowns against South Carolina as opportunities for improvement. And with a team full of young players, their individual talent will continue to increase over the next two months, which pushes up the ceiling for the whole team.
Another easy way to guard against UK getting complacent? That tougher upcoming schedule. The Cats can't relax if it wants to finish out the season at optimal strength, starting with conference second-place Florida.
Note, though, that optimal strength is not defined only by wins and losses. If UK wins out and finishes the regular season on a 22-game winning streak, fine. If UK drops one or two, but keeps getting better, regains that tinge of vulnerability that drives them even further, fine.
"If they really, truly want to do something unique and special, every one of these experiences is building toward March," Calipari said. "Everything. Our whole season is about that."