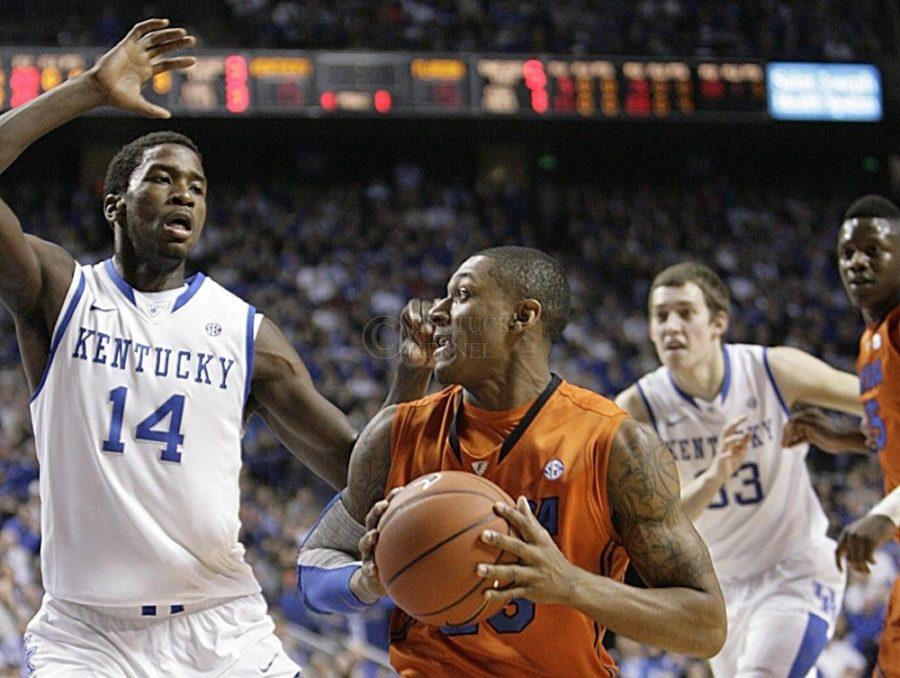 Kernel photos from the UK vs. Florida game can be found at the bottom of this post.
The Kernel's Aaron Smith looks into how the Cats continued their dominance against the Gators.
Florida head coach Billy Donovan tried to find as many ways as he could to say, essentially, "THEY ARE SO GOOD!" after his top-10 Florida team lost to a top-ranked UK team by 20 points.
Smith also talks to UK freshman Anthony Davis about his posters that greeted UK fans when they arrived in Rupp Arena.
The poster was modeled after a famous Michael Jordan version — "the greatest basketball player who's ever played," said Davis, a Chicago native — and touted the freshman as a national defensive player of the year candidate.
Billy Donovan considers UK to be one of the three elite teams in college basketball.
They're the three teams considered to be the elite of college basketball. UK, Ohio State, Syracuse — in some order, those three comprise the upper tier.
Sam Rothbauer of the Kernel discusses how the Cats crush Florida 78-58
UK had no trouble guarding the three-point shot it prepared for in its 78-58 win over the University of Florida Tuesday night at Rupp Arena.
Jerry Tipton of the Lexington Herald-Leader highlights the UK defense and how it shut down Florida's "prolific three-point attack."
A contest between Kentucky's defense and Florida's offense Tuesday night was… no contest.
The Herald-Leader's John Clay blogs about twenty notes from Kentucky's 20-point win over Florida.
4. Marquis Teague had his first double-double with 12 points and a career-high 10 assists. Teague's previous high in assists was nine against Arkansas.
Eric Crawford of the Louisville Courier-Journal wrote a column detailing the Cats ability to bat around Florida like a beach ball.
I'm pretty sure Davis could induce writer's block if he wanted. As it is, and as you can see, he's already altered the column. They gave away Anthony Davis posters before last night's game. As an added bonus, he gave a couple of Florida players the chance to be in one.
ESPN's Brian Bennett discusses the Cats ignoring chatter of having played a weak schedule heading into Tuesday's game against Florida.
It sounds weird to suggest that the No. 1 team in the country, riding a 15-game winning streak, had something to prove.
Eric Lindsey of CoachCal.com talks about the such as Tuesday night's game against Florida.
"When he gets the ball in that open court and he takes two strides, he's about at the NBA line in two strides, laying it in through traffic, tucking the ball," John Calipari said. "He's pretty good."