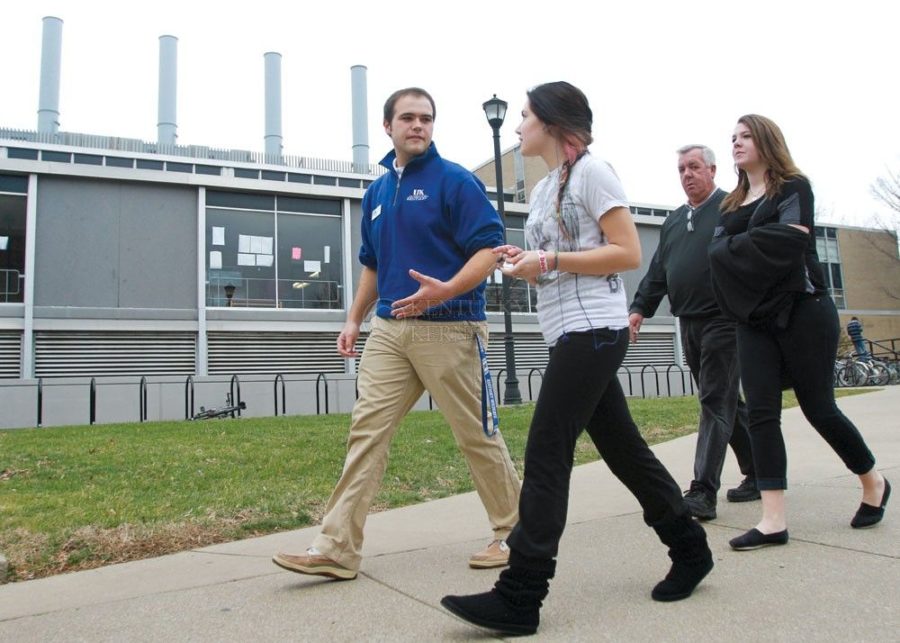 By Taylor Moak
UK tour guides are some of the first people prospective students and their families meet when visiting campus, and many leave a lasting impression on those in their tour groups.
UK currently has 33 tour guides, said Christine Speicher, director of the UK Visitor Center.
Last year, UK saw nearly 14,000 prospective students go through the Visitor Center, Speicher said in an email to the Kernel.
She said when guests are included, UK saw 26,000 people last year.
Taylor Cox, a political science senior, is one of UK's tour guides.
He said he "can't think of a better job for students," because tour guides have influence in one of the biggest decisions in prospective students' lives.
"We aren't focused so much on facts or dates," Cox said. "We try to stress a lot more on individual students."
The skeleton of each tour is the same, said Logan Sparks, an integrated strategic communication junior, but each tour guide will make the tour personal by telling his or her own stories.
Manny Cortez, a chemistry sophomore, said he tries to find humor in things that have embarrassed him to relate to prospective students about campus — like the time when he was in the silent study at W. T. Young Library and his phone rang.
"My biggest fear as a tour guide is I'm going to lose a family," he said, saying that he never wanted to get back to the Main Building and realize a family was still at the Johnson Center.
Cox said the stop at Blanding I on South Campus can be a "little hairy" on Saturday mornings in the fall, especially before football games, when students have been partying all night and are just making their way back to their dorm rooms.
Speicher said she looks for certain characteristics when hiring someone to be a tour guide, including professionalism. She said she wants someone who will take the job seriously, and who is polished, trustworthy and a good storyteller.
When on the job, tour guides are most recognized by their UK polos and khakis. Some of the tour guides said people in their classes often think those are the only clothes they have — because the guides usually lead tours on the same days each week.
"People think we wear this all the time," Sparks said, debunking the rumor. Cortez said the outfits mean many loads of laundry.
As for questions from prospective students, the tour guides said one topic usually comes up.
"How hard is it to get basketball tickets?" Cortez said.
Sparks and Cortez said class size, Kentucky weather — "It's Kentucky, it'll change tomorrow" — and how to get involved are also common topics.
As for the art of walking backward, Sparks said that's not how UK tour guides show people around campus. Instead, they like to walk with families and get to know them, then turn around on each stop to face the group.
Cox agreed.
"I think we're cool," Cox said. "Not the backwards walking, geeky tour guides."
The tour guides also have a few crazy stories from their tours.
"My very first tour, I fell down the steps of Funkhouser," said Ethan Ritter, an animal science and biology junior, who also said a woman peed on herself during one of his tours.
Ritter said it's also neat when to students he's led on tours as students at UK or when parents say, "You're the reason my kids are at UK."
OUT ON TOUR
On Wednesday afternoon, Cortez and Adam Schilt, a secondary English education sophomore, led two families on the 90-minute tour around campus.
The first stops included Patterson Office Tower — which Cortez described as a "North Star" for getting around a big campus — White Hall Classroom Building and Maxwell Place.
After leaving the president's home, Cortez and Schilt lead the tour to the W. T. Young Library. On the way, Cortez said it's important to keep a certain pace, so he doesn't compress the tour.
Once at the library, the tour stopped outside the grass bowl facing Rose Street. There, Cortez and Schilt pointed out the directional cues to give their group a sense of place: the Fifth Third Bank building downtown, Patterson Office Tower, Memorial Hall's steeple and the Kirwan-Blanding Towers on South Campus.
Speicher said this stop is her favorite part of the tour because it's where "UK skrinks" and people realize campus is smaller than they think.
From there, the tour headed inside the library to a tapestry of Willy T. himself.
This is where Sparks shares one of her favorite facts about the man whose name is on the library: while Young had money from horseracing, he was the inventor of Jif Peanut Butter.
She said if it's a rainy or humid day, she asks if her group can smell the peanut butter from the factory on Winchester Road.
After the library, the tour crossed University Drive to South Campus, where it stopped by Blanding I, so prospective students and their families could see what a "traditional" dorm room looks like.
After seeing the room, the tour headed to the Johnson Center, where intramurals and recreational activities are discussed.
Cortez and Schilt stopped their tour by Donovan Hall, where Cortez shared his favorite fact — the rooms were built to house three football players, but now house two girls.
The final stops on the tour were Funkhouser and Memorial Hall.
Jordan Farmer, a 17-year-old senior from Meade County, toured the campus with her parents and brother. She said UK is one of her four options for college.
"(I'm) retouring with acceptance in mind," Farmer said, noting that a deciding factor for her is how big she wants her college to be.
Maggie Erdmire, a 17-year-old senior from Chicago, went on the tour with her dad. Erdmire had never been on campus before, but her dad s-aid he had 30 years ago for a basketball game.
She doesn't want to go to a school that's too small, Erdmire said, and she liked UK because it felt more like a campus than a smaller school she'd visited.