'Apprentice' winner with multiple degrees speaking at College of Engineering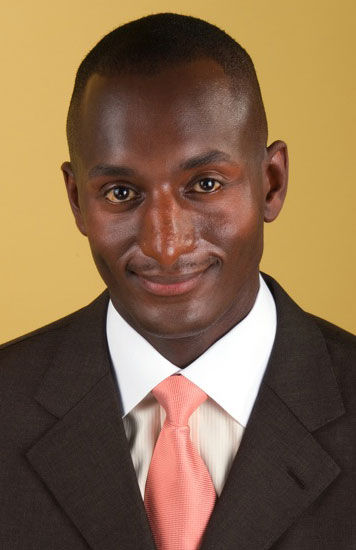 UK's College of Engineering welcomes Randal Pinkett, winner of season four of NBC's "The Apprentice," to speak Friday at the Ralph G. Anderson Building.
"This event is a celebration of the power of communication in engineering. Our engineers are increasingly challenged to communicate in diverse ways," said Emily
Dotson, associate director of eStudio, the new digital media studio in engineering. "You have to be able to talk about your ideas with different audiences, and to
promote and propagate them in increasingly technologically savvy ways."
Pinkett graduated from Rutgers University summa cum laude with a Bachelor of Science in electrical engineering.
"Engineering is stressful, but knowing that Dr. Pinkett was able to be president of NSBE (National Society of Black Engineers) and captain of the varsity field and track team while still maintaining a 3.9 GPA in electrical engineering inspires me to push through to earn my degree in engineering," said Andrea Ramsey, a chemical
engineering senior.
Pinkett went on to receive a Master of Science in computer science from the University of Oxford in England, and then earned a second Master of Science in
electrical engineering, along with a Master of Business Administration and a Ph.D. in media arts and sciences from the Massachusetts Institute of Technology.
"Dr. Pinkett has a very impressive resume. Knowing how scientific-minded most engineers are, I was floored to find out Dr. Pinkett is so well versed in soft
skills," Ramsey said. "I'm very interested in leadership skills, so I know how important soft skills such as communication and teamwork are in leading a team to
accomplish a goal or task."
The annual Engineers Week event invites speakers who are notable for their communication and leadership skills.
Ramsey said she is interested in what Pinkett has to teach about leadership, versatility, persistence and the application of an engineering background in the
business world.
"I'm excited for him to come because he's very accomplished in entrepreneurial aspects and could be a great inspiration and role model," said Lindsey Gordon, who is
double majoring in biology and psychology.
Understanding failures and successes are a conventional part of being an entrepreneur.
"Even after multiple failed attempts it's still important to push and move forward with your goal to get to where you want to be," Gordon said. "Dr. Randal Pinkett
illustrates that anything is possible and everyone can go far with hard work and effort."
The College of Engineering and the eStudio are proud to bring Pinkett to campus.
"We want students to see real engineers who move roads, mountains or, in Dr. Pinkett's case, Donald Trump with the power of their well-communicated ideas," Dotson said.
If you go
: Randal Pinkett
: 11:30 a.m. to 12:30 p.m. on Friday
: Raymond Student Commons area of the Ralph G. Anderson Building
: Free