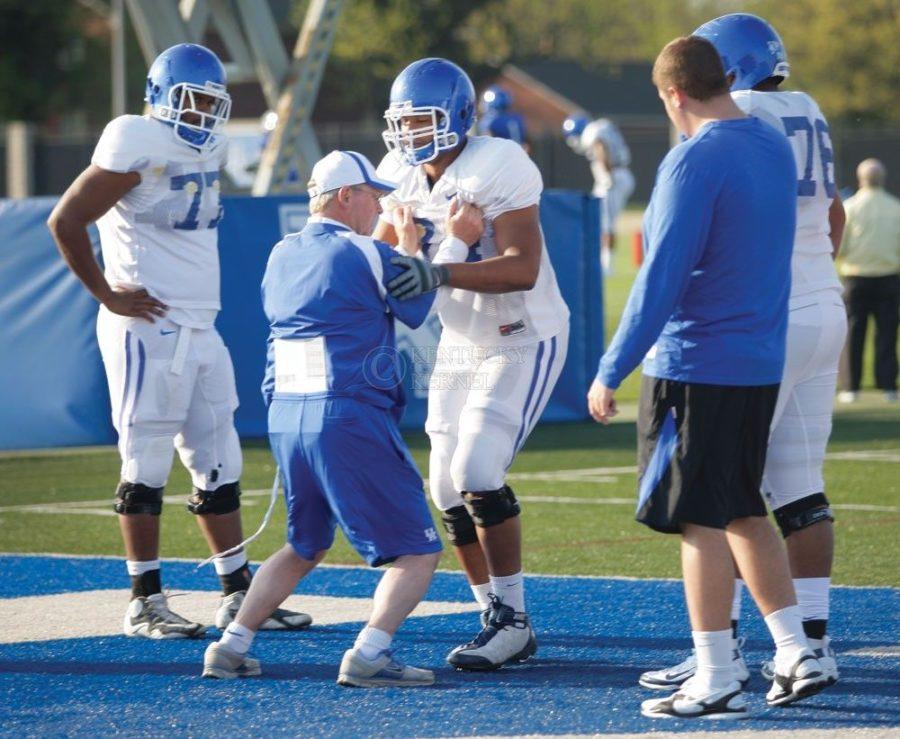 The UK football team is now one week into its 2012 spring practice, already preparing for a new season this fall. Spring practice is an important teaching time for all programs, as the playbooks and schemes for the upcoming year are installed, perfected and then made second nature. I've checked out a few practices at UK's Nutter Training Center and shot some videos so you the fans can see just what your Cats are working on this offseason.
After a brief warm-up, the team gathers at midfield before beginning a team stretch.
Once the team is loose and ready to work, the players break off into positional drills with the assistant coaches.
Quarterbacks Maxwell Smith, Jacob Russell and Morgan Newton work with offensive coordinator Randy Sanders on throwing screen passes, a staple of UK's offense.
Offensive line coach works on technique with his big men up front. Summers is one of the more entertaining coaches to watch in action due to his loud and in your face coaching method.
After rotating to new positional drills, the quarterbacks join UK's stable of running backs to practice ball exchanges on hand-offs.
Meanwhile, the tight ends work with positional coach Greg Nord on making cuts and route running.
Now on to the defensive side of the ball. UK will start three new faces at linebacker this season, and the group is working hard with coach Chuck Smith to get ready.
In the secondary, players worked on back-peddling and turning in coverage down the field with new defensive backs coach Mike Cassity.
Even the punt team stays sharp in the offseason, never taking for granted the importance of special teams. Kickoff specialist Joe Mansour is UK's new punter in spring practice.