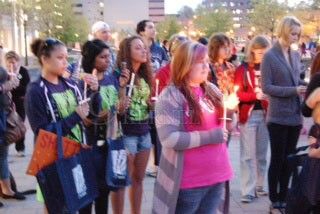 By Jana Milan
Many Americans have been affected by domestic violence. Yesterday, the Violence, Intervention and Prevention Center hosted "Lexington Takes Back the Night 2012".
Take Back the Night is an internationally held march and rally intended as a protest and direct action against rape and other forms of sexual violence.
Groups gathered together and marched from UK's Patterson Office Tower plaza, the parking lot of 3rd Street Stuff & Coffee on Limestone and Triangle Park and met at the Courthouse Plaza in downtown Lexington.
This year's student director of the event was Gretchen Gruenberg.
"I want people to go away knowing that if everyone makes a difference we can change the Lexington community," Gruenberg said.
The theme of the night was "We March, We Unite, We Declare." Many people were invited to speak, from Mayor Jim Gray to several victims of domestic violence.
"Tonight we gather to declare everyone's desires to end violence," Sally Evans said.
Evans is the prevention program coordinator at the Violence, Intervention and Prevention Center. The VIP Center has been participating in Take Back the Night for more than 20 years.
Many organizations were represented at the march, such as the OUTsource, the University of Kentucky Counseling and Testing Center, Bluegrass Rape and Crisis Center and Lexington Fairness.
The night included a speak-out session that allowed victims of domestic violence to share their stories.
Many University of Kentucky students were present, along with their organizations. One organization that marched from Patterson Office Tower was Voices for Planned Parenthood.
"I want to be active against domestic violence," Corinna Hughes said.
Hughes is a freshman nursing major who is actively involved in Voices for Planned Parenthood, also known as VOX.
"Domestic violence is something that seems like it's not brought to the forefront unless celebrities are abused," said Hughes. "In the future I want to be a women's health nurse practitioner and I know this is something I will probably deal with on a daily basis."
Jessica Nunn was also a student that attended the march.
"I wanted to participate because I am passionate about what I believe in and this is a good way to reach out to the community and educated them about this issue," Nunn, a sophomore art studio major, said.
The night ended with a candlelight vigil to honor those who have been affected by domestic violence.
An after-party for the event was held at 3rd Street Stuff and Café.
For more information about Take Back the Night and the VIP center visit http://www.uky.edu/StudentAffairs/VIPCenter/