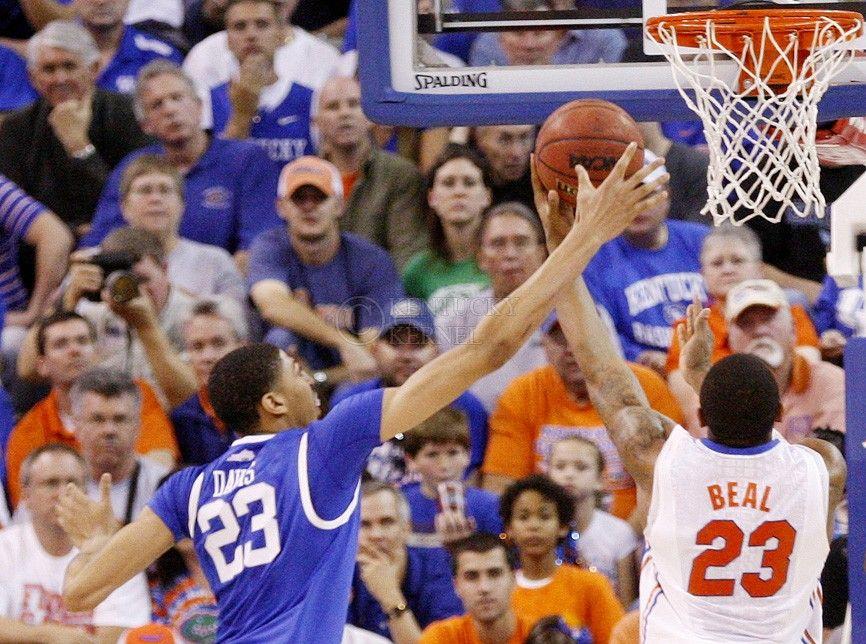 By: Aaron Smith
GAINESVILLE, Fla. — This team has bigger things on the horizon. An SEC Tournament is three days away, and the tournament to win it all is just beyond that.
But stop, for now, to savor this finale.
UK took what was supposed to be a difficult matchup — playing a true road game against a team ranked in the AP poll for the first time all year, on Florida's Senior Day, in a building that had yet to see a No. 1 team come to town — and handled it with customary ease, winning 74-59.
Terrence Jones lived up to his potential to be one of the "top five" players in the country, as head coach John Calipari deemed him after the game, with 19 points, four rebounds, three blocks and two steals.
"If he plays that way for us, we're not just good," Calipari said. "We're real good."
Anthony Davis, surrounded by posters mocking his unibrow and taunted by chants of "one and done," showed the Florida fans that the only thing that matters happens on the court. He scored 22 points, grabbed 12 rebounds and blocked six shots.
"The way we're going to win this game is through you," Davis said he was told him at halftime by assistant coach Kenny Payne. "We need you to play. That's what I tried to do."
Jones succeeded and pulled UK to a win that capped an extraordinary regular season.
With the win, the Cats obtained 30 regular season wins for the first time ever. There aren't many more "firsts" the Cats can accomplish at this point in their storied history, but they just did.
Their undefeated conference season was the first time since 2003 a major-conference team has done so (that last time was UK, as well). No matter how weak the SEC may have been this year, that's a giant accomplishment, even if Calipari is already moving past it.
"I've had a couple other teams do it, so we weren't worried about it," Calipari said. "I told the team, it was a nice thing, hasn't happened that often, but that's not why we're playing."
One shot in the final seconds at Indiana way back in December handed the Cats their only loss on the season.
It's a shot that, although months removed, lives on through an ESPN commercial advertising its mobile platforms. Out of 30 wins, the sports network selected that moment from UK's season to use.
"I want to thank ESPN. They've done one of the greatest services for our program by having that advertisement," Calipari said. "Every time they show it, our players get mad."
Mad enough that Jones joked about wanting to sell his iPhone every time he sees it. Although he retained his technology, he also retained his bitterness over Christian Watford's arcing shot.
"I turn the TV off," Jones said. "Every time. I don't watch it."
Even if ESPN doesn't show them, there were so many other moments this year to remember: beating Kansas in Madison Square Garden to get the season going, Davis' clutch block against North Carolina, throttling Louisville in Rupp Arena, crushing nearly every team in conference play and coming back against those they didn't obliterate.
Jones can watch those instead.
And, the way UK is playing right now, there will be plenty more moments to watch in the coming weeks.