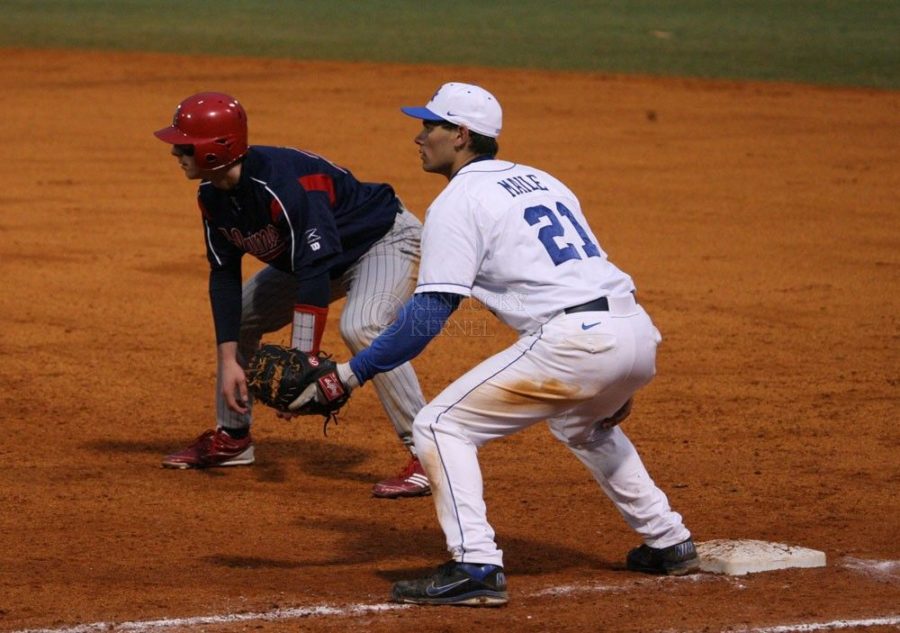 The UK baseball team rebounded from a game one loss to take the second two and the series from the Georgia Bulldogs this weekend in Athens, Ga.
All high-scoring affairs, the Cats compiled 26 runs for the series, their most in a conference weekend this season.
Friday's game was postponed due to rain, setting up a doubleheader on Saturday. Georgia built a fast lead in game one, scoring two runs in the second inning, another in the third and three more in the sixth to mount a 6-0 lead.
The UK offense that had just three hits in the first six innings woke up in the seventh. After sophomore Lucas Witt scored on an error, freshman Austin Cousino hit a three-run home run, his fourth of the year.
Then with two outs, junior Luke Maile and freshman A.J. Reed singled to bring senior Thomas McCarthy to the plate. McCarthy continued his hot streak and doubled to right-center to score both runners. The game was tied at six.
But, the Bulldogs countered in the bottom of the seventh. An RBI double scored the go-ahead and the eventual winning run.
The Cats again had to dig themselves out of a hole in a back-and-forth game two. Georgia put up a run in each of the first four innings. But, again, UK had answer.
With bases loaded in the fourth, sophomore J.T. Riddle walked to plate the first run. Senior Michael Williams then doubled down the left field line to go ahead 4-3 before Georgia tied it in the bottom half.
UK got another in the fifth on a McCarthy home run, but the Bulldogs scored two more in the sixth to take the lead back. But, in the seventh, a two-run homer by junior Cameron Flynn highlighted a three-run inning to put the Cats back on top, 8-6.
Georgia scored a run in the seventh and eighth, but a UK also got one in the eighth to preserve a 9-8 victory. It was a struggle for both starting pitchers, neither of which made it out of the fourth inning.
Sunday's rubber game was a bit less stressful for the Cats. The Bulldogs scored one in the first, but UK responded with four in the second, led by a 3-RBI double by McCarthy.
Cousino and Riddle each homered in the fourth and fifth, respectively, to break the game open. The Cats went on to win 11-2 to take the series.
Freshmen Reed and Cousino now lead the Cats in hitting, batting .359 and .358 respectively.
UK (27-2, 7-2 SEC) is now first in the SEC standings through three weekends of conference play.
The Cats return to action against the University of Dayton Wednesday at 6:30 p.m.