UK women's club lacrosse travels to Lax Out Leukemia Tournament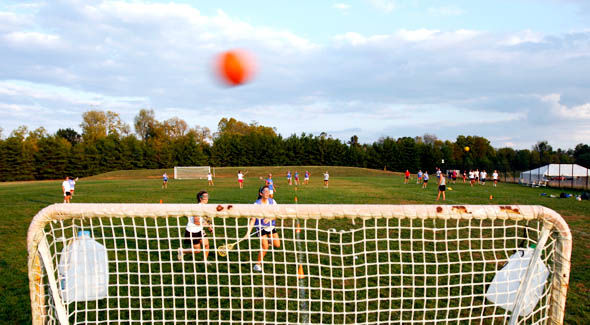 By Elizabeth Royse
With its seventh season coming to an end, the UK women's club lacrosse team will travel to Blacksburg, Va. Saturday for its last tournament of the season at Virginia Polytech Institute and State University.
The UK women's club lacrosse is a Division I team for the Women's Collegiate Lacrosse Associates (WCLA) and was invited by Virginia Tech to go to their eighth annual "Lax Out Leukemia" spring tournament this weekend, which benefits one of Virginia Tech's teammates, Erica Bury, who has survived the disease.
Portions of the profits from the tournament will be given to the American Cancer Society and directly to Bury for her treatments, according to Virginia Tech's Recreational Sports website.
For this weekend at Virginia Tech, it cost a $550 registration fee for each team to attend.  Part of that registration fee goes to the cost of referees, and the other remaining portion will be donated to the American Cancer Society.
Each of UK's team members pay their own individual fees to pay for uniforms and referee fees, as well as for their own traveling to tournaments and away games, according to UK's head coach and former UK lacrosse player, Lauren Davis.
The tournament consists of nine different schools from the East Coast competing against one another.
"We all know this is going to be a big competition for us, but we're excited," Davis said.  "It'll be a fun, good competition, in a new atmosphere".
Anne Beaumont, UK junior with position attack wing on the team, said "It'll be good to play teams that will make us play up; teams that we can learn from."
UK's team consists of 24 players.  "We have a young and talented team," Davis said.
With a 5-4 record so far this season, UK will play against Penn State University in its first game at 11 a.m. Saturday, and then against Radford University at 1 p.m.
On Sunday, UK plays against William Mary University at 8 a.m. and then its last game will be against Wake Forest at noon.
To learn more about the UK women's lacrosse team, go to www.ukwomenslacrosse.com.