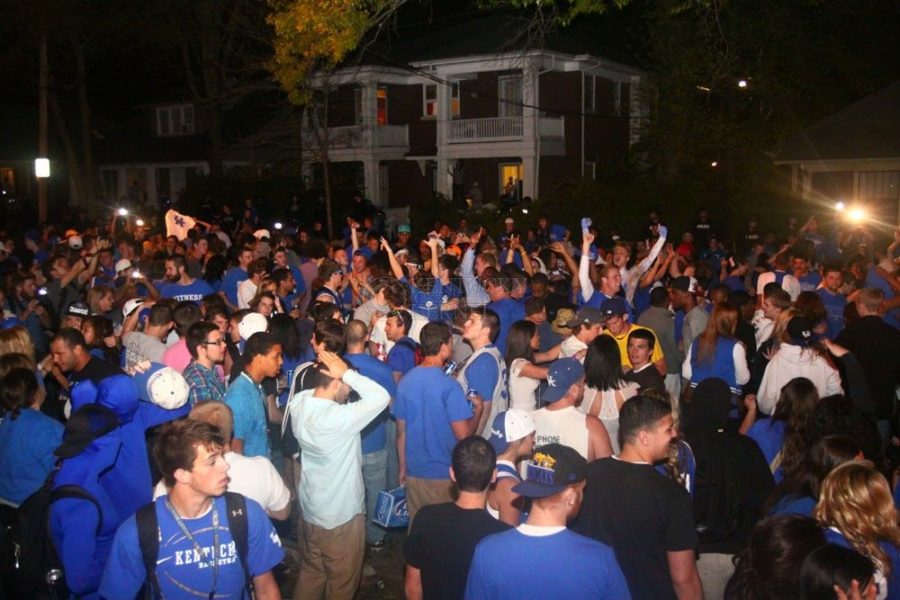 By Rachel Aretakis and Luke Glaser
Their eyes were glued to the TV until the last seconds counted down. As the buzzer sounded, they jumped from their seats and sprinted to the street.
It finally was over. It was finally time for them to completely breathe a sigh of relief. UK fans could finally claim the title of national champions.
State Street became alive with dancing, crying and jumping fans Monday night, after UK defeated University of Kansas in New Orleans.
"I'm from California," Chris Johnson, a business administration junior, said. "This is insane."
The celebration mirrored that to Saturday night, but with more people and fewer flipped cars. State Street was flooded with supporters, all cheering C-A-T-S in unison.
The anticipation had been building up since Saturday evening.
"We've been waiting 15 years for this," Brendan Kessler, a english junior, said. "UK fans are the best in the world."
Students shot fireworks into the sky and lit fires with T-shirts and beer boxes, all of which were quickly put out by police.
People started pregaming early Monday, as fans were tailgating and drinking at restaurants and bars.
Throughout the day on Monday, Lexington police blocked off State Street and towed cars parked there.
Students could move their cars to Commonwealth Stadium K lots on Monday afternoon.
Lexington and UK police said earlier in the day that they were working to identify those who started fires on State Street on Saturday, when multiple couches were burned, cars were flipped, and even one car was set on fire.
The large fires and upended cars were noticeably absent from Monday's celebrations. Students instead opted to gather en masse with cheers, fireworks and plenty of high-fives.
Bryce Sanders, a fifth grader from Taylor Mill Elementary in Covington, Ky., came down with his parents to see the UK celebrations.
"I think it's fun," said the 11-year-old with a unibrow painted on his forehead. "Best time I've ever had."
Fans continued to conglomerate on State Street and showed no signs of dispersing as of 1 a.m. The crowd was estimated to be abut 5,000 people, according to officers on the scene.
The party was predicted to last "all night," Ashley Court, a communication disorders junior, said. "Bourbon Street doesn't have anything on State Street."
Arrests were made on State St., University Ave. and Conn Terrace, many pertaining to arson, according to several eyewitnesses.
A $25 reward is being offered to those who can identify people involved in criminal activity.
Most, though, flooded State Street simply for the chance to celebrate. Fans waited 15 years, and accordingly made the celebration worthwhile.
"All night" said Kessler, when asked about the duration of the celebrations. "'Til the break of dawn."