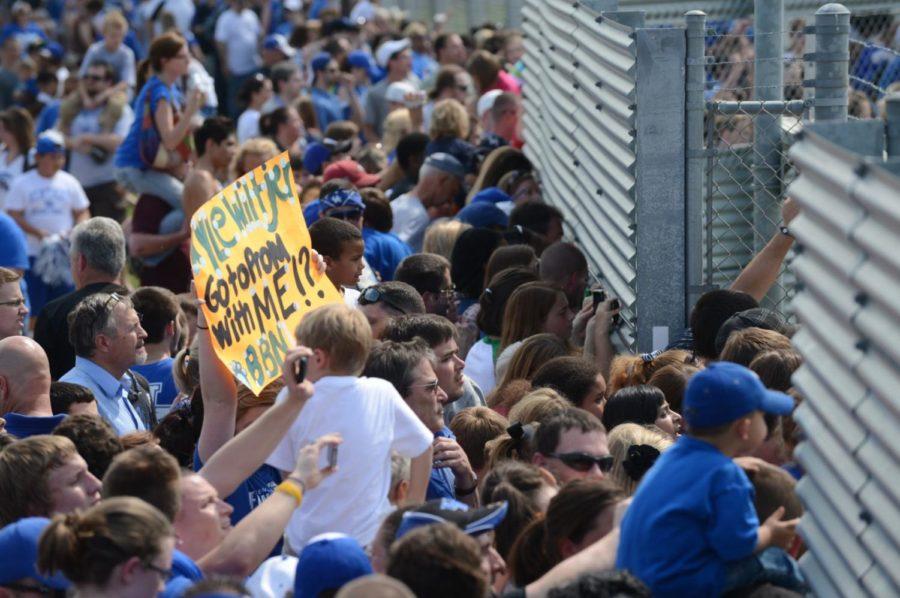 By Kayla Phelps
Hundreds of fans gathered at Blue Grass Airport Tuesday waiting for the Cats to arrive in Lexington.
Students, children, parents and grandparents lined up hours before the team's arrival.
Tim Jenkins, a 2005 UK alumnus in accounting, waited in line for two hours, sporting a Santa Claus outfit.
"It's Christmas in Kentucky," he said.
Jenkins is a financial planner in Lexington and said "no one should be working today."
"The Big Blue Nation has been incredible. Nothing can keep us away," he said.
People climbed on fences and peeked through holes to cheer on the national champions.
Cameras were lifted high in the air and people stood on each others' shoulders to catch a glimpse of the players.
"This is the first time I have been able to experience a championship in my life that I can remember," Brandon Carlisle, a computer science freshman, said. "I am super excited."
Carlisle was at the airport waiting for the team about 45 minutes before their arrival.
He wanted to celebrate the season at Rupp Arena, but didn't get a student ticket in time.
However, the crowd at the airport was almost as spirited.
"This is the best year of my life," he said. "This is awesome. I didn't expect this many people."
Fans ran after the bus as it headed back into Lexington, and they chanted "C-A-T-S" and "Big Blue Nation."
"Everybody is cheering and wearing their blue," Haley Tipmore, a human nutrition sophomore, said. "This is a once-in-a-lifetime experience."