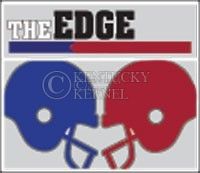 The UK football team will conclude its spring practice season Saturday with its annual Blue/White Scrimmage in Commonwealth Stadium.
Like last year, head coach Joker Phillips has paired his first string offense with his first string defense, and that team will play against the rest of his roster, who will be spotted 14 points to start the game. But anyone affiliated with the program will tell you the game is less about winners or losers, and more about the coaching staff analyzing the team in live game situations and assessing players for the fall.
Instead of the Edge's usual three key matchups format, this week it will break down three things coaches and fans should be watching for when the team hits the field Saturday.
Quarterback Maxwell Smith- Smith won't be facing the Cats' first string defense Saturday, but coaches and fans should have their eyes glued to the team's starting quarterback all spring. Playing for the backups as a grayshirt freshman a year ago, the offense is now Smith's to lose or secure in the scrimmage. After a disastrous season offensively a year ago, the Cats will be looking to Smith to improve from his first-team All-SEC Freshman performance in 2011 and take the offense to the next level.
"I come out with the same mentality- it's game time," Smith said. "I am coming out like our defense is Louisville. I just want to come out, complete a lot of passes, move the ball down the field and score touchdowns."
Smith said it was important for him to be a more accurate passer this year if the passing game is going to be successful, especially against the stout defenses of the SEC. Saturday will be the first SEC defense Smith takes on since November, and his first opportunity to show coaches and fans his development since last season.
The secondary- The biggest question mark on UK's roster lies in the secondary, where a number of unproven names and faces will compete for playing time.
Marcus Caffey, a backup running back on last year's team, has made the move to defensive back and earned himself a starting nod on the spring practice depth chart. Phillips spoke highly of Caffey following Wednesday's practice, saying he liked his size, speed and physicality. Phillips also said he was impressed with the senior leadership that safety Martavius Neloms has shown this spring. Neloms has more starting experience than any other member of UK's secondary.
"There's a whole lot of young guys back there," UK defensive coordinator Rick Minter said. "It's going to be an open competition in the fall."
Saturday will be another chance for those competing for spots to make sure coaches remember their names and feel they are worthy of playing time or even a starting spot in the fall. No final decisions will be made Saturday, but at a position waiting to be claimed there will be a number of new faces looking to break onto the scene.
New faces at linebacker- Last year, linebackers Danny Trevathan and Winston Guy were first and second in the SEC in total tackles. Both have now moved on to the bright lights of professional football, leaving two pairs of very large shoes to fill in the middle of Minter's defense.
So far this spring it has been Avery Williamson and Alvin (Bud) Dupree who have been filling those shoes.
"Those are the leaders of the pack right now, Bud at outside and Avery at inside," Minter said. "We have fierce competition going on regularly."
Coaches and fans will be watching Williamson and Dupree not only for their abilities on the field but their leadership and command of the defense throughout the game. Having to replace all four linebackers from last yea'r starting defense, Minter and linebackers coach Chuck Smith will have their eyes on more than just Williamson and Dupree, but if those two can step in and play at a high level Saturday, it should elevate the play of the other new faces around them, both at linebacker and in the secondary.
Saturday's Blue/White Scrimmage kicks off at 6 p.m. in Commonwealth Stadium.