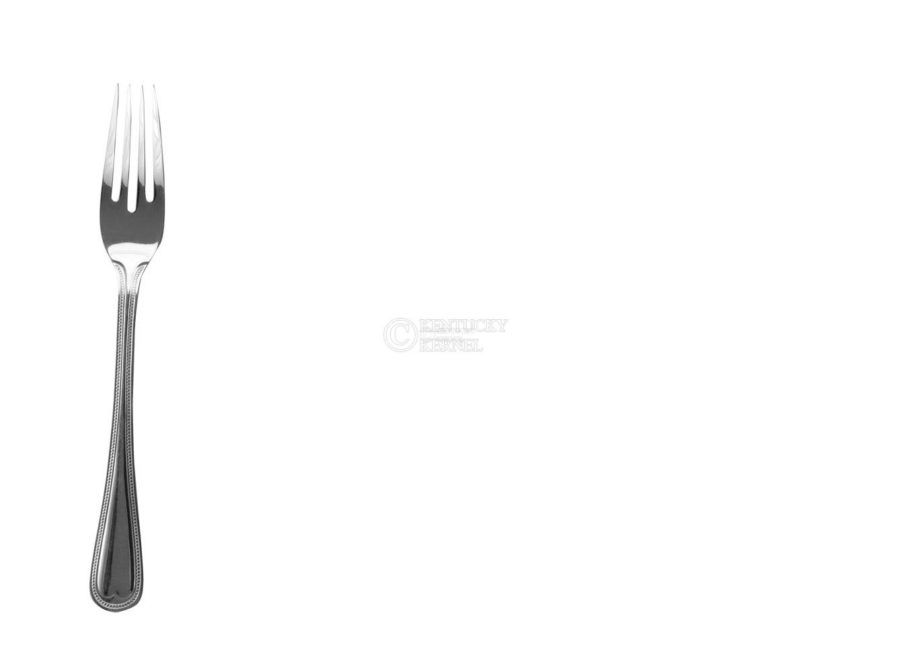 Years ago — or so the legend goes — an embittered Kernel editor came back to the office upset, hurt, insulted. A prominent campus figure had unfairly harangued the young reporter for an offense that he did not commit.
It was at that point, in the heat and sweat of tension, that the young editor vowed revenge. From those feelings of hate, the Golden Forks were born. As a testament to that young reporter we take it upon ourselves to strike back with venomous pleasure at those who have wronged the mighty "Fourth Estate."
The "Prince Charming Combover" award goes to Student Government President Micah Fielden. Never before have we seen hair flow so smoothly from one side of the head to the other. Never before has a Student Government president been so closely groomed — appearance-wise, that is. At least, he's the prettiest in recent years. We're too lazy to look up the mugs of past leaders.
The "Always on Vibrate" award goes to basketball walk-ons Sam Malone and Brian Long. Thanks, guys, for answering our phone calls.
The "Freshman! Freshman!" award goes to President Eli Capilouto, who is finishing his first year at the helm of this institution. Our new president has survived his Freshman 15. But can he survive the Sophomore 20? As in, a $20 million budget cut for UK. Take a deep breath and do one last keg stand before you head into upper division, Eli.
The "Finally Leader of the Pack" award goes to Provost Kumble Subbaswamy, who recently landed the top job at the University of Massachusetts-Amherst. The job market is tough. We know, we're newspaper journalists. But you've proved the old adage that if first you don't succeed in getting the top job at a state institution, try, try again. Looks like fourth time's the charm.
The "Long Eyebrow Hair, Don't Care" award goes to UK freshman baller Anthony Davis for refusing to shave his unibrow at the beginning of the year. And for subsequently making it the biggest fashion statement on campus since "Jorts." Good luck in the NBA. Maybe Gillette will sponsor you.
The "How to Make a Quick Buck" award goes to poster sellers on eBay for making money off of Anthony Davis. Some of the auctioneers sold the posters for more than $150. Take that, NCAA.
The "Give This Guy Some Damn Basketball Tickets" award goes to a man from Charlotte, N.C., who posted a listing offering his wife in exchange for NCAA Tournament tickets. Classy, right? This man deserves an award. He's just doing what millions of men across the country could only hope to do: See UK in the Final Four. We hope it worked out for you, big guy.
The "Look Ma, I Finally Did It" award goes to this year's football team for beating Tennessee after a 26-year losing streak. Congrats for finally beating the team that our parents never could. Next year, maybe an actual quarterback can lead the team to victory.
The "That's What She Said" award goes to DanceBlue 2012 participants for going "twice as hard, half as long" (their words, not ours) after the annual marathon was shortened to 12 hours because of weather concerns. Don't get us wrong, we love the mission of DanceBlue, but long nights in the newsroom can make you channel your inner crude high school sense of humor.
*Runner-up goes to Kyle Wiltjer for this quote: "Not a lot of people have seen it. When I pull it out, they don't know what's coming. Then when it goes in, they're like, 'Whoa, what just happened?'" (He's talking about his hook shot, people.)
The "Most Photogenic" award goes to Kate on State. Getting to New Orleans and buying Final Four tickets were expensive endeavors. But, one UK student found a way to bring Bourbon Street to the Bluegrass. Whether she received any beads on State Street that evening has yet to be confirmed.
The "Smile, You're on Candid Camera" award goes to UK fans who set a car on fire on State Street after UK beat Louisville in the Final Four. No, no, keep telling yourself that gasoline isn't flammable. And forget about the fact that someone might need that car to get to work. Celebrating a sports win is much more important than safety and livelihood. What a bummer that police figured out how to use that darn YouTube thing and identified your faces in a video of the incident. Oops!
The "Party Crasher" award goes to UK's former president, Lee Todd. We expected current President Eli Capilouto to cut down the nets in Atlanta after the win to go to the Final Four, but we were a tad surprised to see that Todd hopped on that ladder, too. We know Capilouto's just a freshman, but he's ready to fly on his own now.
The "Our Biggest Pet Peeve" award goes to DeWayne Peevy of UK Media Relations. When one of our reporters called two unofficial basketball players, Peevy revoked our access to an interview. That ticked us off. Then, he finished the year by NOT giving us any more trouble. That REALLY ticked us off! Thanks for making public relations the news.