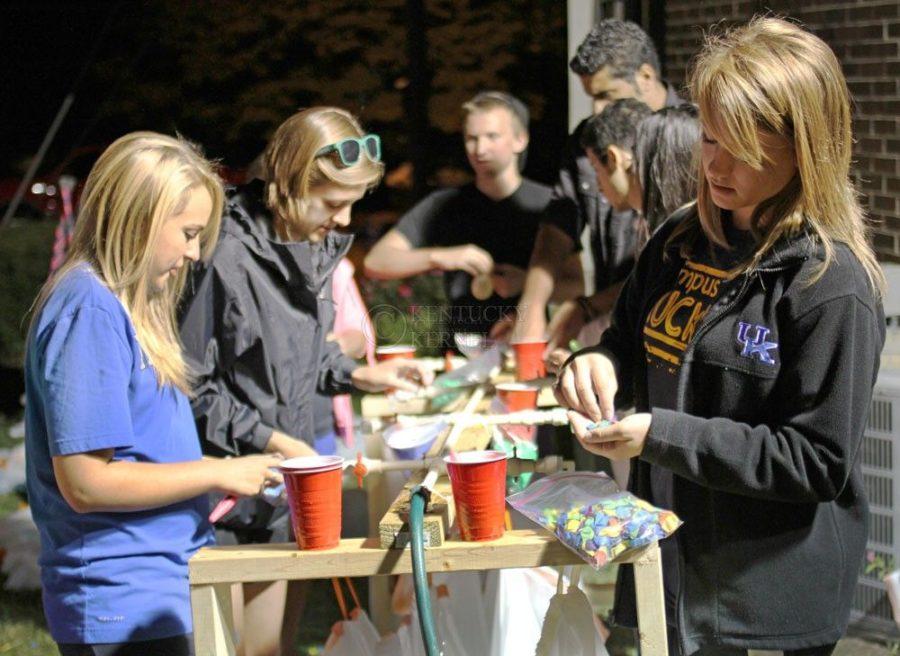 By Gary Hermann
The Christian Student Fellowship already holds the record for the World's Largest Water Balloon Fight, and this year its plan is to go bigger.
"Be ready to experience the best three minutes of your life," staff member Derek King said. "It's hard to put into words."
Students have been at CSF filling water balloons in nights leading up to the event. Human nutrition sophomore Taylor Pauley even faced the mid-afternoon heat to fill balloons.
"I'm ecstatic. I can't wait for when the clock strikes 11:55," Pauley said. "It's a highlight of my year."
According to a CSF press release, there will be 200,000 water balloons at the event.
CSF has had 450 student leaders helping with the event, King said. Almost all of the guys will be on security and most will be sporting mowhawks.
"The best part is getting to tackle people as a security guard," biology senior J.D. Hammer said.
CSF does fully expect to beat its record crowd from last year.
"I threw my bet in at 11,100 people," Matt Dampier, associate campus minister, said. "We will definitely be north 10,000."
Dampier participated in the first ever CSF water balloon fight.
"We want to show people that we think God gives us this radical, awesome life," Dampier said. "So let's just go throw water balloons."
"This year will be bigger and better," Pauley said.
CSF will mix things up this year so people who have been going the last three years won't be bored, King said.
"This is the best five minutes of organized chaos you will ever experience," Dampier said.
The water balloon fight will be at 11:55 p.m. Friday at Johnson Center Fields.