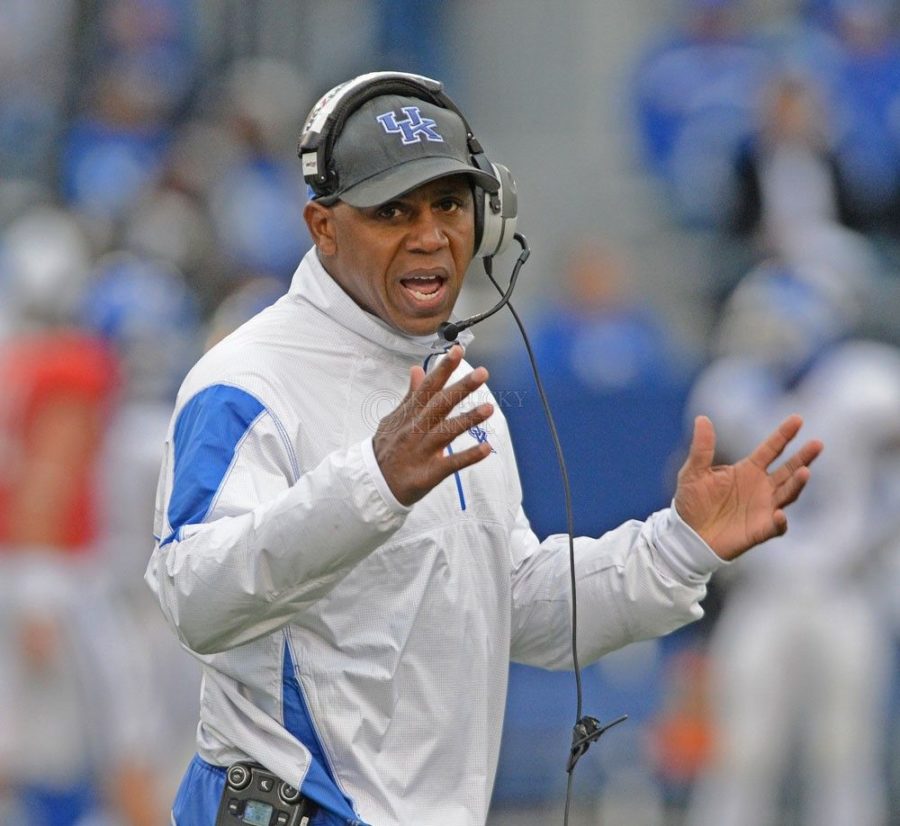 Alignment, assignment and adjustment
Following Wednesday's practice, UK head football coach Joker Phillips stressed three A's on defense: alignment, assignment and adjustment.
These words refer to the process the defense should go through before every play, beginning with lining up, then determining defensive assignments before finally making the adjustments necessary for the upcoming play.
Phillips and defensive coordinator Rick Minter both said the biggest problem for the defense against Louisville was its ability to make adjustments. Meaning, if the offense sends a tight end in motion across the formation, or the quarterback changes the play at the line of scrimmage, the defense wasn't adjusted and prepared for the play by the time the ball was snapped.
"Every play has alignment, assignment and adjustment," Phillips said, "and we're just not making the adjustments."
Phillips said the defensive play calls are sent in from the sidelines, but the players on the field are not making the proper adjustments to match the offense and prepare for what's coming. Expect UK's more veteran defensive starters to be more vocal on the field this Saturday when the Cats take on Kent State.
Team falls ill
Phillips also said Wednesday that players have been throwing up this week in practice as a result of a bug that has been passed throughout members of the team. The spreading illness does not seem to be serious, and no one is expected to miss any action Saturday solely due to illness.
But Phillips said the team has had to "push through it" and continue working and preparing for Saturday's game.
"We got to go," Phillips said. "We don't have time to worry about heat, we don't have time to worry about a bug. We got to continue to press on."
Clemons, Faulkner remain out
On the injury front, Phillips said sophomore safety Glenn Faulkner is still five or six weeks away from potentially returning to action. Faulkner injured his ankle in a team scrimmage during practice in August and has not practiced or played with the team since.
Sophomore running back Josh Clemons also remains out with a knee injury. Phillips said the team is taking Clemons's injury situation week-by-week, but that this week Clemons was a no-go for Saturday's game.
Youth movement on defense
After allowing more than 460 yards of total offense to Louisville last week, UK's defense has faced intense scrutiny from its critics. The Cats allowed four touchdown drives of 76 yards or longer, and U of L quarterback Teddy Bridgewater dominated UK's defense by going 19-21 passing in just three quarters.
In addition to Phillips' three A's on defense, the coaching staff is still evaluating talent and new faces may have an opportunity to play in the coming weeks. Neither Phillips nor Minter would mention specific names, but both were adamant about allowing their best players to play and finding what each player on the team can bring to the table.
"We're going to integrate younger guys as we go that are capable of playing," Minter said. "That doesn't mean they're going to be given anything, everything they're given they have to earn like anybody else. We have to find out in this first third or quarter of our season who are going to be our playmakers."