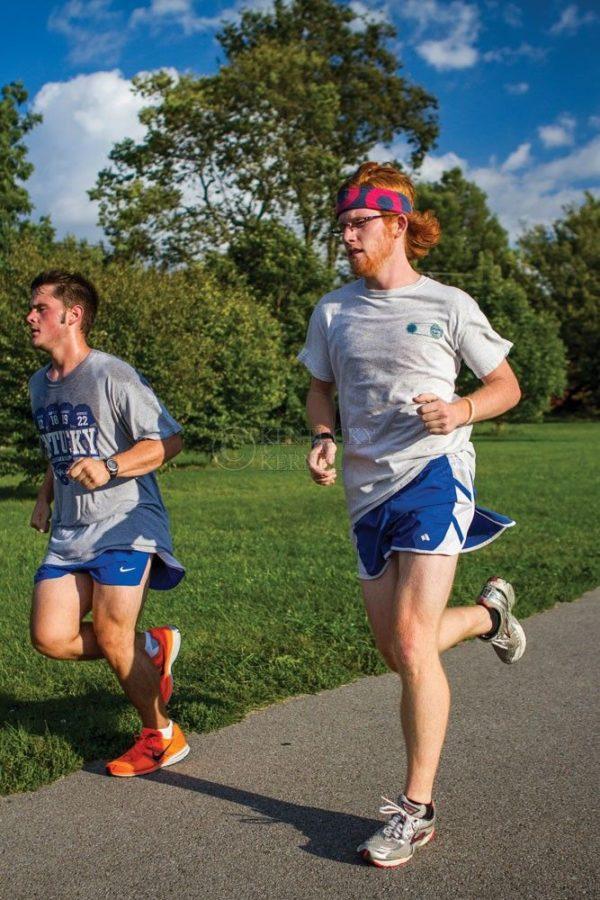 By Amelia Orwick
The UK Running Club continues to flourish under new leadership in the beginning of its third year at the university.
UK graduate Michael Wurzbacher started the coed club in 2009, and it has continued to gain membership ever since.
President Matthew Bendure ran track and cross-country in high school and has been running with the UK club team since his freshman year in 2010.
"It is a bit more time consuming than I thought it would be," Bendure said. "But at the same time, it's something I'm passionate about and am happy to do."
The club, also known as UKRC, meets four days a week outside of Patterson Office Tower.
Most days runners meet at 5:30 p.m., which allows for all students to participate regardless of their class schedules.
Although the club tends to focus more on competitive running, runners of all skill levels are invited to join.
However, it is not uncommon for club members who didn't plan on running competitively to change their minds once they get involved.
"I had never planned to do speed workouts on my own or even run more than 10 miles at any given time," said Khang Le, a computer science sophomore and UKRC member. "Now 4 miles seems like nothing to me."
UKRC runs along miscellaneous routes in Lexington, including the trails at the Arboretum.
"We normally try to start on campus and end on campus," Bendure said.
Routes are tailored to meet each runner's needs.
Practice serves as preparation for the four or five competitive races that UKRC members have the option to run each season.
UKRC faces off against NAIA and Division III teams every year at the National Intercollegiate Running Club Association regional and national championships.
Runners who participate in practice and are interested in competing may get the opportunity to travel to such places as Bloomington, Ind., and Hershey, Pa., to take part in the championships.
Aside from the competition, many club members enjoy meeting new people and spending time with others who share their enthusiasm.
"Love for running brings people together who wouldn't normally cross paths," Katie Eichenger, UKRC co-captain, said.
The team is advised by Randy Crist, who is also the head coach of the men's and women's cross-country teams at Asbury College.
Although Crist can't always be present on campus, he provides training advice and support for the team from afar.
Bendure encourages those interested in running to attend a practice before the season ends in mid-November.
"We all have other stuff going on, but we share a passion for running," Bendure said. "Going on trips and running together brings people closer. It's a great way to meet new people on campus."
Those interested in getting involved can contact Bendure at [email protected]