Recruiting diary: Derek Willis talks recent injury, being recruited by Calipari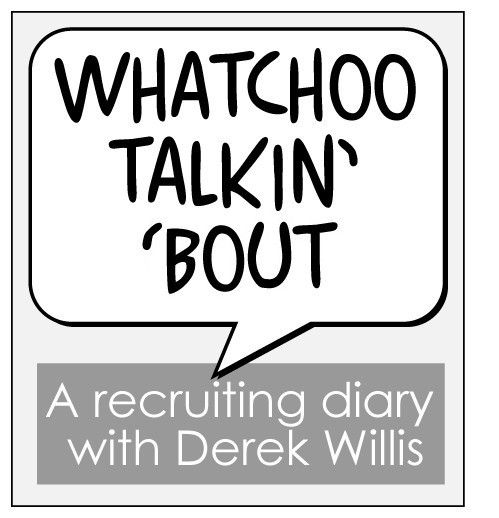 By Derek Willis | @derek_willis33
This past week has had its ups and downs. It is homecoming week at Bullitt East High School and everybody has been excited for the two popular games the classes compete against each other in — boys volleyball, which we call "rocketball," and girls football, which is "powderpuff."
This year one my teammates wanted me to play so I thought it wouldn't be a bad idea considering I'm the tallest kid in school.
Fast forwarding through the week to Tuesday night, we were playing the sophomore class.
Every class has a team and our game was second after the freshmen and juniors played, so we started warming up by doing spike drills and trying to hit other kids in the head — all that good stuff.
After all the nonsense, our game started and the very first play my friend gets me the perfect set and I just slam this ball right down at this kid's face. No mercy!
We took the first game and then the sophomores got lucky and won the next one. It gets down to the last game and they get the win, so that way the two losers play each other for consolation and the winners play for bragging rights, and all that.
Well we smash the juniors and the faculty wants some too, so we're like, why not?
Game starts off against the faculty and they are just thrashing us. I'm getting frustrated and I don't want to lose but the faculty ends up getting the first game win.
We switch sides and a couple of plays go by and then I went up to block this spike and came down on my ankle. Pain shoots right up my right leg and then I'm just kind of laying there awkward rolling around.
These people come to my rescue and I'm mad because I know that something bad has happened.
By the time they got me to the sideline my ankle had already blown up and the pain was making my whole leg hurt. My dad and another teacher help me to my car and they take me home.
After my dad and coach looked at it I found out that thankfully I just sprained it, so hopefully I'll be back on my feet in about a week or two.
Other than my accident the past week, a lot of recruits have had visits from college coaches.
It's home visit week so that's when the coaches who want you in their program stop by and say "what's up." This gives coaches a chance to meet the recruit's parents and help the parents feel more secure with the coach who will be developing their son's basketball game even more, as not only as a player, but as a man too.
The in-home visit can be the last impression a college can make for a player's parents so it's best that they are on top of everything just to make sure that they're the best choice for that recruit to be successful.
As far as Coach Cal and him talking to you about what it takes to be at UK — there is no other program like it.
During the last time I visited he showed me a clip on the past achievements of UK basketball. He said that UK is not for everybody.
When I committed to UK, I signed with best team in the nation that is known for putting players in the NBA.
So, Coach Cal will expect a lot from you if he is offering you a chance to play for the Cats.
For what it's worth, Coach Cal is a great coach, a great man, and I can't wait to see what my future UK team will look like.