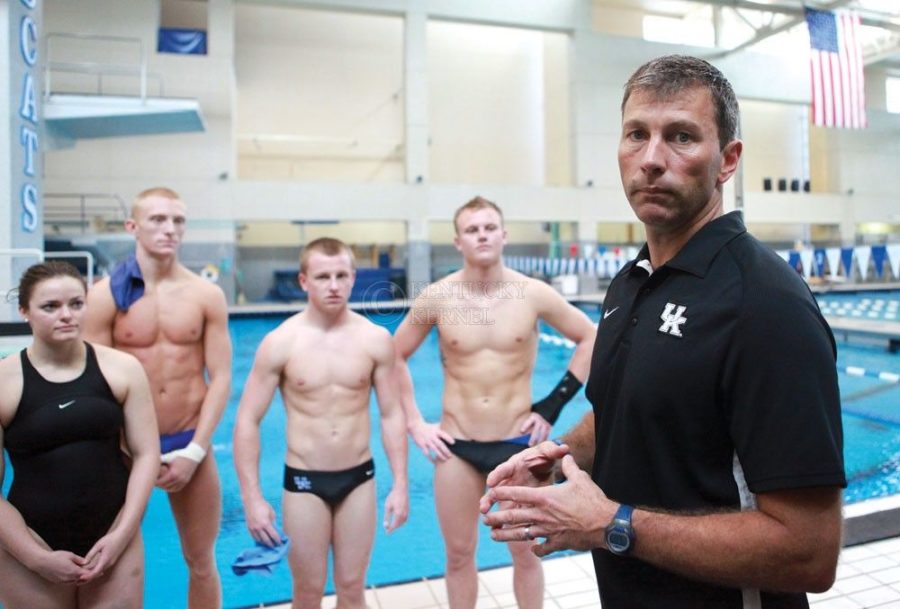 By Morgen Wells
Last year, during the most crucial part of their season, the UK dive team members relied heavily on each other for support and coaching.
On the first day of the NCAA meet, head coach Ted Hautau got a call at 2 a.m.: his pregnant wife needed emergency appendicitis surgery.
He immediately left to be with his family, and the divers were on their own. According to Hautau, however, this wasn't the first time. Because of his wife's high-risk pregnancy during the season, he often missed parts — or all — of practice for doctor's appointments, but knew he could count on his team to stay focused, motivated and on-task. Like truly committed athletes, they continued on, relying on one another's constructive criticism until their coach returned.
Sophomore Kyle Lang said it was a good learning experience that brought the team closer. The results were positive. Junior Greg Ferrucci was named SEC Diver of the Week four times and won every preliminary event at the SEC meet. The entire team scored at the SEC tournament and qualified for USA Diving's National Championship.
So, what does it take to be a successful UK diver?
"Prepare to be sore for the next four years of your life," said sophomore Sarah Chewning, jokingly.
Diving requires strength, flexibility and an ability to overcome physical and mental obstacles, Hautau said. The team does yoga and lifts weights twice a week, in addition to two practices a day Monday through Friday, and an early Saturday morning practice.
Although not mandatory, the entire team stayed in Lexington over the summer to train for the upcoming season. Chewning calls diving a "full-time job," because what you do (or don't) eat and drink, how much you sleep and your time management skills all affect performance.
In addition to athleticism, academics play a role in maintaining eligibility. Members of the team boast a wide range of majors, including media arts, psychology, kinesiology, math and pre-pharmacy. Every diver maintained above a 3.0 grade point average last year, Hautau said.
But hard work doesn't mean no play for the team. According to junior Zack Peterson, everyone is extremely close. They spend time with each other outside of practice, and some are even roommates. Lang agrees.
"We do everything together," he said. "I'd never been a part of a real team before this," said Chewning, calling her time at UK "incredible," despite last season's unexpected twists and turns.
The closeness of the team contributes to the dynamic during practices and meets. Divers encourage each other, clap when someone executes a particularly impressive move and loosen up with jokes, dance moves and Lady Gaga remixes.
Hautau said they have worked hard to create a good culture — the team is committed to doing the right thing, be it in practice, treatment of others or academics. And if the team is a family, Hautau is the head.
"I wouldn't dive for anyone else," Ferrucci said. Chewning agreed: "I have more respect for him than anyone else I know."
In fact, Hautau was a big factor in most of the divers choosing UK. According to Chewning, the beauty of diving is pushing herself past her fears, knowing she can trust her coach.
During practice, Hautau can be found on deck, animatedly training his team. He uses his arms and legs to demonstrate corrections, a loud voice to reach his divers and encouragement and praise for a job well done.
Sophomore Christa Cabot said he's the best coach she's had because he puts so much time into his team. As for this season, Hautau is hopeful. He's proud of the progress the team has made so far, including growing in size, and looks forward to stepping up the competition. He expects the men's team to continue performing and the women's team to add more depth to its dive meets.
The factor of uncertainty still lingers, as the SEC has changed the way dive meets are scored and has grown to include Texas A&M and Missouri, both strong diving schools, according to Hautau. However, he's confident that the team's hard work will generate results. If there's one thing dive team wants campus to know, it's that it wants support, and promises not to disappoint.
The team's first meet is Oct. 19 at 2 p.m. at the Lancaster Aquatic Center, next to the Johnson Center on Complex Drive.