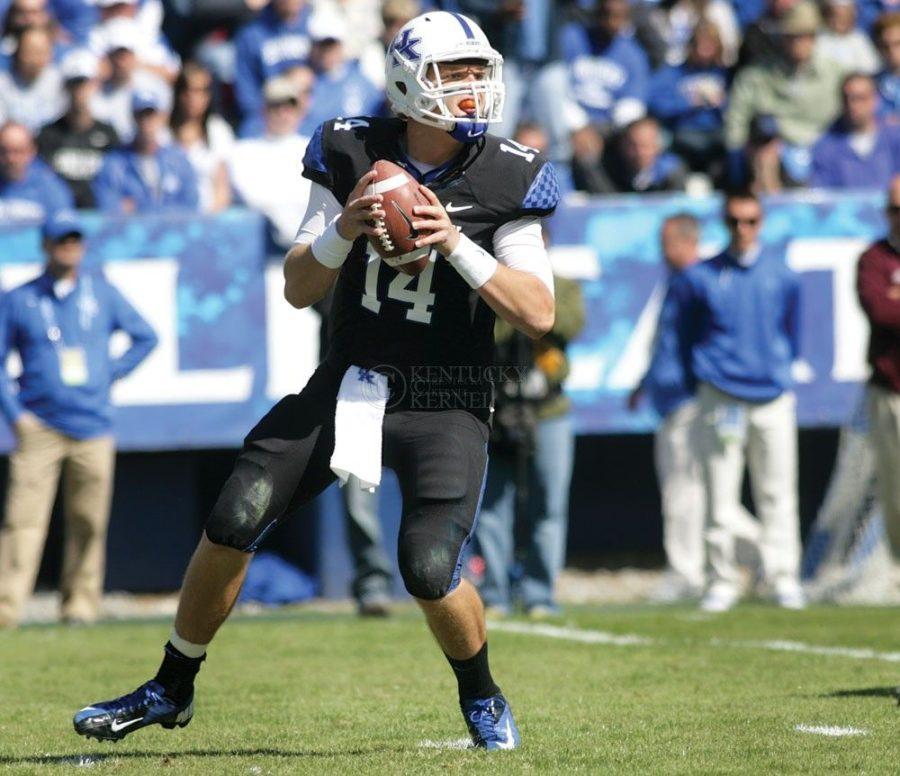 By Ethan Levine | @KernelLevine
Those freshmen have filled vital roles for the Cats this season. Two true freshmen, Jalen Whitlow and Patrick Towles, have taken snaps at quarterback so far this season with mixed results. In his collegiate debut Towles was an impressive 5-6 passing for 71 yards and a touchdown pass. But on his third series under center against Mississippi State a week ago, Towles rolled his ankle and his status for the remainder of the season is now unknown.
Whitlow has played on almost all of UK's offensive snaps in its last two games against Mississippi State and South Carolina. A stellar athlete with a cannon for an arm, Whitlow has completed less than 50 percent of his passes while throwing two interceptions without a touchdown. But he is also third on the team with 97 yards rushing and two touchdowns.
"They're going to make mistakes and they've both made mistakes," head coach Joker Phillips said, "but they give you a chance with their abilities that they have."
Other true freshmen who have received an opportunity on offense include running back Dyshawn Mobley and wide receivers A.J. Legree and DeMarcus Sweat. Legree had two crucial catches against the Gamecocks in week five, while Sweat has shown big play ability as both a receiver and kick returner. Sweat's 56-yard touchdown reception against Kent State remains UK's longest reception of the season, and his 22.5 yards per return also leads the team.
Punter Landon Foster has picked up where former UK punters left off. Foster has booted it 27 times this year, averaging more than 41 yards per kick. He has nine punts (one-third of his season total) that have traveled at least 50 yards, and six times has pinned UK's opponents inside their 20 yard line.
"Consistency is the difference between high school and college, college and the pros," Foster said. "Everyone can hit the same ball, a 50-yarder with 5.0 (second) hang time, but in college you do it five out of 10 times and in the pros you do it nine out of 10 times."
The UK defense is still searching for that consistency, with injuries and suspect play shaking up the lineup from week to week.
UK seems to have settled upon a collection of players on its defense, but the unit is overwhelmingly inexperienced.
The Cats have had as many as six freshmen on the field at one time when their opponents have the ball, including linebackers Khalid Henderson and Pancho Thomas and defensive backs Daron Blaylock, Zach Blaylock, Cody Quinn, J.D. Harmon and Fred Tiller.
Quinn has emerged as a starter at cornerback with senior Martavius Neloms moving back to safety, the position he played all of last season. Tiller and Harmon have also spent much of the season playing as UK's third and fourth cornerbacks, entering action when opposing offenses spread out their formations.
Blaylock has seen his playing time on the defense increase as the season has progressed, and has played a vital role on UK's special teams.
Thomas and Henderson have rotated into the action at linebacker during games this season, but neither has earned a place in the starting lineup. Henderson leads all of UK's true freshmen with 13 tackles this season, while Thomas has nine tackles of his own.
The Cats may be young, but that doesn't mean they aren't confident, especially the freshmen. As UK opens the second half of its season Saturday against the Arkansas Razorbacks, fans will have big expectations for the freshmen, but no one expects more out of UK's young guns than those very freshmen themselves.
"We are young right now," Daron Blaylock said. "We just have to get better for the next game. We don't talk as just the freshmen. We talk as a football team and it's really just next man up."