Keightley remembered daily by fans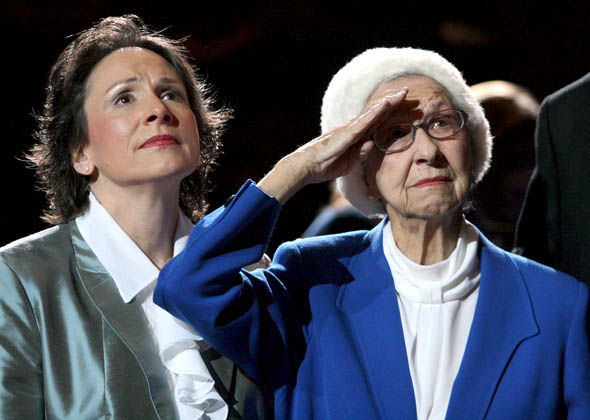 By Cody Porter | @KernelPorter
Sitting at a desk atop the steps of the Joe Craft Center is Karen Marlowe, a staff assistant at UK Athletics' administrative office, or a bouncer of sorts, she said.
She welcomes guests daily, often for media-related purposes. But, ever so often, names that have gone down in the record books for UK basketball pay her a special visit, as they no longer have a reason to hastily enter the basketball courts and offices below that of Marlowe's.
Years ago, the name Keightley was the only one that followed what was given by her mother and father. Now, it is what defines the person she and so many others have become.
Her father, Bill Keightley, is a staple in the history of UK basketball. Much like the names Rupp, Hall and Ledford, it defines "part of the building of the tradition."
"He still has an effect on what goes on there today," Marlowe said.
All across the landscape, whether at historic programs such as UCLA, North Carolina, Kansas or Duke, the identity of a team's equipment manager has never been so highly regarded.
Despite how "crazy" UK basketball head coach John Calipari claims his fans are, few are likely to be able to name a current equipment or student manager, justifying Keightley's significance to a program adorned with recognition.
Once a postal carrier, Keightley began working double-duty shifts in the early 1960s when co-worker George Hukle helped get him a job with UK as his assistant equipment manager.
By 1972, Keightley became the lead equipment manager and eventually the Cats' utility man.
"It didn't matter what the thing was that needed to be done, or if there were materials needed, or if people needed to be contacted, or whatever; he was the person that did it," Marlowe said. "They'd say, 'Go talk to Bill about that.' "
Keightley's worth during his tenure would have put him in the role of a modern-day assistant coach, Marlowe said, rather than that of an equipment manager.
"Dad always seemed like the guy that pulled everything together."
In pulling everything together, Keightley showed an incomparable work ethic that rubbed off on his daughter, along with those who worked for him, such as current Georgetown College head coach Chris Briggs.
"He'd get there early, early in the mornings, be there all day, be back at night sometimes. He was one of those guys that worked hard and took pride in his work ethic," said Briggs, a student manager and graduate assistant from 2001-06.
Considered one of Keightley's "cream of the crop," according to Marlowe, Briggs said he carried lessons learned from his former boss with him to Georgetown.
This season, unlike those in the past, Briggs has implemented early-morning practices that have reminded him of Keightley's work ethic, who, he said, "was always (at the gym) at 4:30, 5 o'clock in the morning."
Work was always a constant for Keightley. Whether it was as a postal carrier, painter, bartender on Derby day or merely cutting grass, a day's conclusion was always UK related.
"There were days he didn't even go to bed. They would have a road trip and they would get home at two or three in the morning, and he always got up about 4 o'clock," Marlowe said, adding even "as an old man he did that."
Memories of Keightley's influence aren't the only thing Briggs continues to carry with him. One quote in particular struck a chord, providing a path of guidance for him to date.
"Mr Keightley, he always said, 'I've never worked a day in my life because I've had fun every single day.'"
With so much time spent on the job, the name Bill Keightley became a recognizable one. Consequently, his notoriety grew, although,
"sometimes he didn't really understand it himself," Marlowe said.
"Mr. Wildcat," a nickname assigned to him by former UK basketball head coach Joe B. Hall, developed into the persona that fans and coaches become accustomed to greeting.
"He was one of those guys that had a personality that attracted people," Briggs said.
Briggs said if you ask any former manager about "Mr. Bill," they would have countless stories, but when it came down to it, "he'd always stress to develop good relationships with people."
"We'd be doing summer basketball camp and we'd go somewhere around town with him to pick up shirts, or do this or do that. It didn't matter where you went with him, somebody knew him and he usually knew them and remembered them," he said.
Just as they do with his daughter now, Briggs said people continuously stopped by to visit Keightley.
"You couldn't sit in there two or three minutes without somebody new coming in to say hello, chat for a few minutes. As they'd head out the door someone else new was coming in."
Whether or not he was in his 70s or 80s was irrelevant, be it a player or student manager, Keightley's presence was beyond that of a UK employee. His demonstrated values made him "one of the guys" among Cats student managers and players.
Since the time of his death in 2008, while he was still employed at age 81, there's still "a sense of him there," according to Marlowe.
Be it an open seat at the end of the bench reserved by former men's basketball coach Billy Gillispie, a warm embrace by Hall and Calipari following win No. 2,000 for UK, or the equipment room bearing his name at Memorial Coliseum, Keightley's legacy continues.
"If players or other managers just had the chance to know him, they would know how meaningful the program was to him," Briggs said.
In the years since, new names have taken up residence within the dwellings of the Craft Center.
Without Keightley's presence in there, Marlowe said incoming student managers greet her just the same.
"They're very, very respectful of me. I tell them to think of me as your big sister. They're always very respectful of Dad."
One recent visitor is current UK equipment manager Bo Rodriguez, who is the most recent name to follow Keightley, placing his feet in Shaquille O'Neal-esque shoes.
"I wouldn't think any of those guys think they're going to step in to fill Mr. Keightley's shoes," Briggs said. "If they're there for 40 or 50 years, I guess it would be possible, but it's kind of one of those unique deals that doesn't come around so often."