Harrison twins among UK signees successful in state tournaments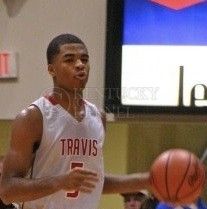 By Tom Hurley | @TomHurleyKernel
Success on the big stage has not yet come for UK basketball in 2012-13, with both the men's and women's squads falling short in the SEC Tournament, and the news Sunday that the men's side won't get the chance to defend its NCAA national title.
While the possibility still remains for success in the National Invitational Tournament for the men, and the NCAA Tournament for the women, future Cats have already been busy lifting trophies and cutting down nets.
Five UK signees were celebrating over spring break after guiding their high school teams to state championship titles.
After falling one win short of the Texas class A state championship in 2012, Andrew and Aaron Harrison finally tasted glory by leading their Fort Bend (Texas) Travis High School to the 2013 title.
Point guard Andrew Harrison was one rebound shy of a double-double, scoring 16 points and nine rebounds in the 46-38 triumph over South Grand Prairie.
Shooting guard Aaron Harrison picked up eight points and seven rebounds for the Tigers.
Scout.com ranks Andrew Harrison at No. 3 in the Class of 2013, with older brother Aaron Harrison ranked at No. 4.
UK Hoops signees Kyvin Goodin-Rogers and Makayla Epps helped Marion County (Lebanon, Ky.) High School defeat Notre Dame, 52-36, to complete an undefeated season and secure the state championship.
Point guard Epps led the Knights with 15 points, six rebounds and five assists, while forward Goodin-Rogers added 10 points and three blocks.
Earlier in spring break, 5-foot-10 Epps was named the 2012-13 Kentucky Girls Basketball Player of the Year.
It's not just the Class of 2013 who have been climbing ladders to hack down the nylon.
Karl Towns, UK's first signee from the class of 2014, picked up 12 points, five rebounds and three blocks as his St. Joseph's (Metuchen, N.J.) High School won New Jersey's Non-Public A title.
The 57-47 win over St. Peter's Prep made it two state championships in as many seasons for the Falcons.
Since wrapping up the Non-Public A crown, St. Joseph's has progressed to the final of New Jersey's Tournament of Champions, and will play Roselle Catholic in the title game Tuesday.
The list of future Cats winning state titles this season might not end there.
James Young and his Rochester, Mich., high school take on Southeastern (Detroit) in the Michigan state championship quarterfinals Tuesday.
Six-foot-6, 210-pound signee Young will join fellow guards Andrew and Aaron Harrison in the Rupp Arena home locker room this coming fall.