McCorvey to stay at UK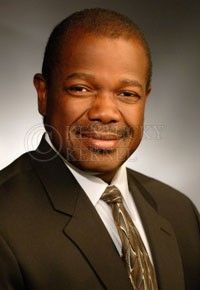 By Samantha Rogers| @KyKernel  
UK's distinguished educator and performer, Everett McCorvey, has withdrawn from consideration for the post of dean for the School of Music, Theatre and Dance at the University of North Carolina-Greensboro.
He has decided to stay with the program he has built at UK for the last 22 years. UK President Eli Capilouto announced McCorvey's decision from the stage of the Lexington Opera House March 1 before the opening performance of the UK Opera Theatre's production of "The Marriage of Figaro."
"I was very pleased that Dr. McCorvey and his family made the decision to stay at UK and in Lexington. They are deeply respected here and in the community," Capilouto said. "They have built an enduring legacy here and I think they want to continue to build on that, touching students and impacting the community for what we all hope will be many years to come."
The crowd gave McCorvey a standing ovation, before the opera had begun.
"I'm thrilled he decided to stay," said Cynthia Lawrence, professor and endowed chair in music (voice) at UK. "I think the public spoke loudly."
Since his arrival at UK in 1991, McCorvey has built the college's opera program into a nationally recognized program, "both by word of mouth and those in the business," Lawrence said.
Under his direction, the UK voice program was named to a list of 20 recommended opera training programs in the United States by the Richard Tucker Music Foundation.
"We are always looking for ways to enhance what we do well. Dr. McCorvey has built a nationally and internationally regarded opera program, even in the midst of a very tough economy. It attracts students from all walks of life and throughout the country," Capilouto said.
McCorvey has also helped launch the careers of several professional opera singers, including Gregory Turay, Phumzile Sojola, Andrea Jones-Sojola, Patricia Andress, Corey Crider and Reshma Shetty, who also stars as Divya Katdare on the USA television series "Royal Pains."
"The arts are an important part of helping ensure that our students have the range, skills and education to succeed in whatever they choose to do when they leave UK," Capilouto said.
In addition to transforming UK opera productions into major Lexington arts events, McCorvey also established "It's a Grand Night for Singing!" show-tune concerts as must-see dates on the city's arts calendar.
"His vision for the opera program is why I came," Lawrence said. "I wouldn't be here otherwise."
McCorvey also founded and currently directs the Lexington-based American Spiritual Ensemble, which tours internationally presenting spiritual songs. He was also an executive producer of the opening ceremonies of the Alltech FEI World Equestrian Games.
"He works tirelessly – not even hard," Lawrence said. "And he's always in a good mood, even though things may seem dire at times."
McCorvey currently holds the rank of professor of voice and the Lexington Opera Society Endowed Chair in Opera Studies, and is the director and executive producer of Opera Theatre.
This academic year, the UK Opera Theatre staged a production of "The Phantom of the Opera" that broke attendance records at the Lexington Opera House.
Their latest production of "The Marriage of Figaro", performed March 1 through March 3, was also given rave reviews.
"I think Everett is looking forward to continuing his work and preparing for future shows," Capilouto said.