Point guard focus turns to Tyus Jones, Tyler Ulis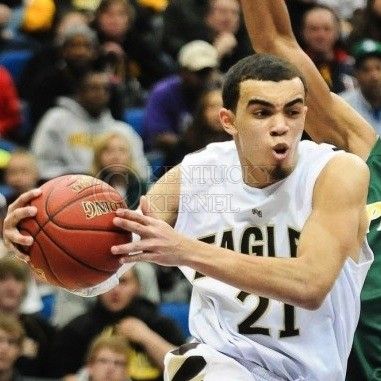 By Brett Bibbins | Recruiting Beat Writer
The Cats are moving forward with recruiting the Class of 2014 even though UK missed out on highly-touted point guard Emmanuel Mudiay over the weekend.
The lone committed recruit to head coach John Calipari and the Cats in the class is the No. 6 ranked player by ESPN Karl Towns Jr. The 7-foot-1-inch, 235-pound center accepted Calipari's scholarship offer on Dec. 4, 2012.
UK looks to move forward in recruiting the point guard position, most notably the 5-foot-9-inch, 150-pound Tyler Ulis of Matteson, Ill.
Ulis is a four-star recruit out of Marian Catholic High School and the No. 8 point guard in the Class of 2014, according to ESPN. He is ranked No. 38 overall.
Calipari offered a scholarship to Ulis during an unofficial visit to UK on Aug. 16 and he plans to visit Lexington for the UK Alumni Game on Sept. 9, according to Steve Jones of the Louisville Courier-Journal.
However, more than one option for the point guard position is still available for the Cats. The next best point guard available behind Mudiay is Tyus Jones of Apple Valley, Minn.
Standing at 6 feet, 1 inch and 171 pounds, Jones visited UK on Jan. 12 and plans to have an official visit to Lexington on Sept. 27, according to Jones' Twitter account.
The five-star prospect made it clear that he would like to be a part of a package deal with Jahlil Okafor, the No. 1 ranked player in the ESPN's Class of 2014 rankings.
Okafor has blogged about the duo teaming up in his USA TODAY blog, "Jottings from Jahlil."
Despite the speaking of a packaged deal, Okafor will not visit Lexington the same time as Jones. Okafor tweeted he will come to UK for the Alumni Game on Sept. 9.
Recent rumors have revealed that another packaged deal of potential UK commits may be in the works.
Adam Zagoria of SportsNet New York reported a pair of small forwards in the Class of 2014 are interested in playing with each other at the next level. Stanley Johnson, ESPN's No. 12 ranked prospect, and Justise Winslow, ESPN's No. 15 ranked prospect, have common interests in UK and Arizona.
"It's all about how the college feels about it," Johnson told Zagoria. "We want to do it, we're committed to each other. As long as the college is OK with it and they're seeing it the way we're seeing it, then we can make it happen."
He continued if it doesn't happen like that, then they won't commit.
Johnson will visit Lexington for Big Blue Madness on Oct. 18, according to Zagoria. But Winslow has not set up a visit to UK.
"I'm trying to do what's best for my family, he's trying to do what's best for his, and if we play together, that would be cool," Winslow told Zagoria.
Another player keeping his family in mind is James Blackmon Jr., whose father, James Blackmon Sr., played for UK in the 80s. Blackmon Jr. is a four-star prospect who once committed to play for Tom Crean at Indiana University, but decommitted on Aug. 8 and is now listing UK among his final schools. ESPN ranks Blackmon No. 25 in the class.
Since re-opening his recruitment, Blackmon has posted a picture on his Instagram account of his father in a UK uniform with the words, "Like Father, Like Son."
The Marion High School prospect plans to make an unofficial visit to Lexington on Aug. 29, according to Steve Jones of the Courier-Journal.