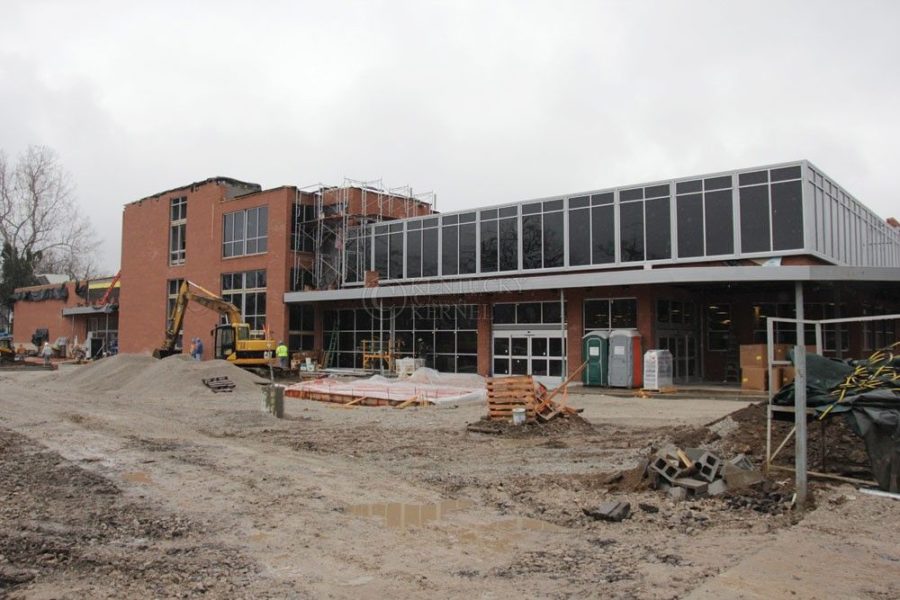 By Matthew Wickstrom
Construction on the Kroger store on Euclid Avenue is on track and set to open Jan. 8, 2015, according to project manager Matt Tompary. The old Kroger store closed in March.
Kroger currently offers a free daily shuttle service to their Chinoe Road location. According to Tompary, the service runs from noon to 7 p.m. picking people up at the corner of Lafayette and Euclid, directly across from the new Kroger location and on the corner of Euclid and Linden Walk.
Once complete, the new building will expand on the variety of products for sale, as well as offer more adequate parking, Tompary said.
"About two-thirds of the parking at the new store will be on the roof, with the remaining third being on ground level," Tompary said. "This blueprint allows the physical area of the store to take up most of the lot it lies on, while also offering more parking spots than before."
The new store layout will be more than twice as large as its predecessor, increasing from 38,000 square feet to nearly 86,000, Tompary confirmed. As a result, the new store will carry an estimated 130,000 products, up from about 80,000 provided by the old store.
The renovation will cost $22 million, according to Tompary.
The new store will also have a large basement where product storage, food preparation stations, break rooms, employee lockers and management offices will be located.
The new store will also feature a drive-thru pharmacy.
Recently, Kroger announced they've leased the former Premier Home Video store on the corner of Ashland and Euclid and will use the space as a Wine and Spirits shop, according to an article by the Herald-Leader.
Kroger plans on spending roughly $900,000 on renovations to the building, according to the Herald-Leader.
The store is also in the process of applying for a liquor license, which could complicate the early January opening date.
Euclid students are happy they'll have access to close-to-home shopping again.
"With classwork and social obligations taking up most of my time, I have very little free time to shop, and even less currently while the new Kroger is built," said kinesthesiology junior Joseph Lane. "The new store will be a blessing for not only me, but other students who counted on it as a quick go-to grocery destination."
Dietics sophomore Sarah Czarnecki said she is also inconvenienced by the Euclid Kroger shutdown.
"Right now I shop at the Kroger on Romany Road," Czarnecki said. "I have to plan a few days ahead of time because all of my weekdays are packed full with plans. Traffic is also a big factor in deciding when to shop."
Lane added that he is excited for the new, renovated store to open before second semester.
"Before the old store got shut down, I shopped there several times a week," Lane said. "Lately I've been driving out to ALDI and Walmart by the mall to buy groceries."