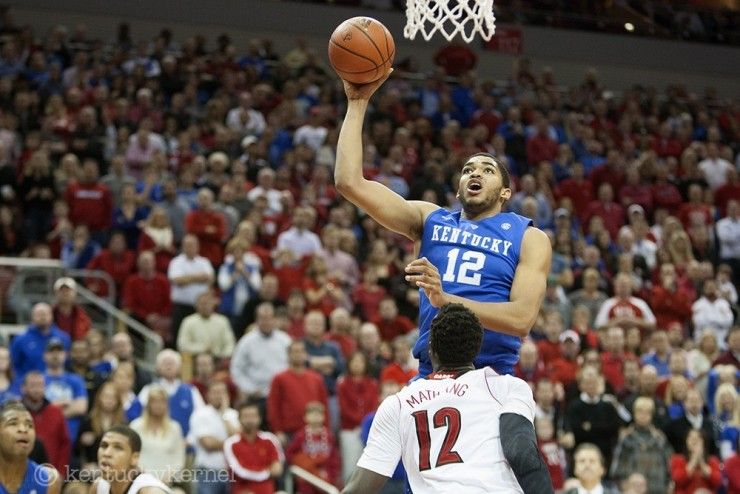 By Joshua Huff
UK's last nonconference hurdle was cleared Saturday as the Cats battled their way through a post-Christmas brawl against defensive-minded Louisville in route to a chippy 58-50 win.
As impressive as the physical, defensively dominated game was for UK, the final nonconference matchup before SEC play displayed the Cat's ability to battle through any type of game, be it a defensive slugfest or an offensive downpour.
"Some kids came here and performed," UK head coach John Calipari said. "They weren't rattled. They stayed focused on the court and the game was physical. That was more physical than the Texas game and I didn't think that was possible."
With UK's upperclassmen struggling to find a rhythm, the Cats turned to a heralded group of freshmen who displayed the swagger that Calipari preaches to his players.
"I don't want arrogance, I want a swagger," Calipari said. "I don't want arrogance. Arrogance is not earned. Arrogance is 'I wear the Kentucky uniform don't you know who I am?' That's arrogance."
The young players of UK embraced the lesson. The swagger displayed by the smallest man on the court, Tyler Ulis, was only eclipsed by Karl-Anthony Towns, who brought a tenacity and resiliency to a UK team looking for a heartbeat.
That heartbeat was discovered battling Louisville's forward Montrezl Harrell down low or pulling down offensive and defensive rebounds, as Towns fought his way to 10 points and nine rebounds. Yet it was his fight that kept UK surging past a Cardinal team that was biting and clawing their way to stay close.
His defensive presence contributed to Louisville shooting a season-low 25.9 percent from the field. His length along with the other bigs, Willie-Cauley-Stein, Dakari Johnson and Trey Lyles created havoc for the Cardinals, who shot 15-for-58.
"They're one of the great defensive teams I have seen in my 40 years," Louisville head coach Rick Pitino said. "Because they can switch and now cause a mismatch. They can move their feet and block the shot. They're a great great defensive team, no doubt about it."
If it wasn't for UK's defensive, the Cats may have left the Yum! Center with its first loss of the season. They shot a paltry 37 percent in the first half and didn't attempt a free-throw until early in the second half. However, UK's defense held a poor-shooting Louisville team to just 21 percent in the first and 30 percent in the second half.
UK now heads into a 10-day layoff before it starts up conference play against Ole Miss. With the possibility of an undefeated season lurking in the future, the victory over Louisville was the rest stop sign notifying the driver that the exit is near.