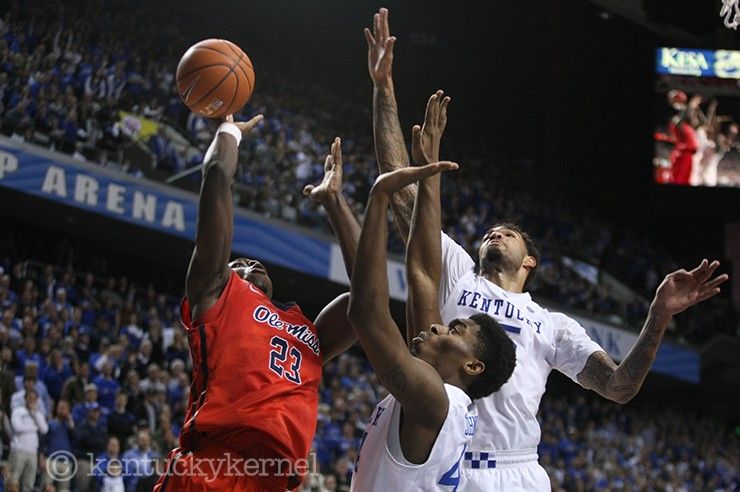 By Joshua Huff
The second half was a like a Nike commercial with anything UK can do Ole Miss can do better. Shot after shot, free throw after free throw, the Rebels fought with a tenacity that UK struggled to replicate.
"They really went body-to-body on us and we weren't able to really bang," Calipari said.
UK though, relied on two factors to pull out a win. Its clutch three-point shooting (55 percent) and the nagging cramps to Moody. Had Moody not went out, according to Calipari the Cats would have lost the game. His 25 points led the Rebels and his last points tied the game at 66. He had a chance to give Ole Miss a three-point lead after he was fouled by Willie Cauley-Stein, but cramps again reared its ugly head and M.J. Rhett went to the line for him and made just one of three.
The Cats had ample opportunities to increase the lead but missed free throws kept it a three-point game with about 15 seconds left in the game. With Moody hobbled, Martavious Newby heaved a three that missed and Cauley-Stein yanked down the rebound to seal the victory.
"Willie missed some free throws, Trey (Lyles) missed some free throws," Cailpari said. "You know, in those situations that becomes tough especially when you look down the other end and they're missing no free throws."
Despite the struggles, Calipari embraced the close-fought game to open SEC play for UK.
"This is all good for this team," he said. "This team needs to keep getting hit in the mouth. I don't even know how good we can be. I don't. There are things we're going to have to do if teams try to do this kind of stuff to us."