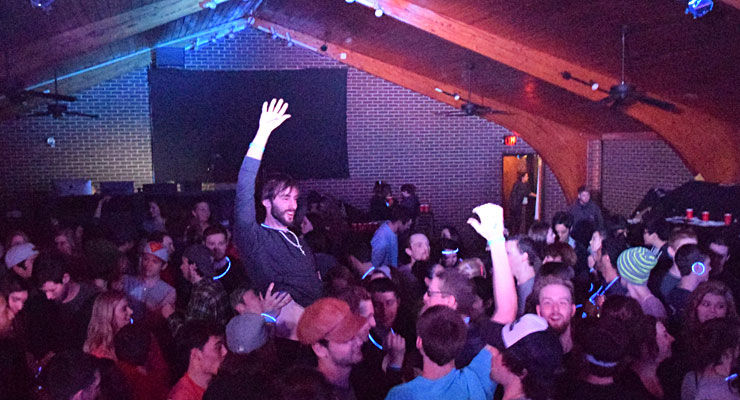 By Penny Schmitz
The Christian Student Fellowship hosted a dance party Friday night despite snowy conditions on campus.
"We were going to cancel but then people started showing up, and they kept coming in," said CSF staff member Amy Thornberry. "In years past we have had to buy a snow machine so this actually saved us money and added to the party."
More than 500 students were met at the front door with bass-thrusting music that could be heard pulsing from outside. They were instructed to sign in, and were then given a blue armband and were invited to check out the scene.
The upstairs offered a dance floor, free blue glow sticks, a cutout photo op with Elsa from 'Frozen,' free hot chocolate and cookies and clear plastic inflatable balls, called "Zorb Balls," that party-goers could step into and knock around their peers. In order to step into the "Zorb Balls," each participant had to sign a waiver for safety.
Downstairs showcased a Super Smash Bros. tournament, karaoke, and a cheese and cracker table.
"They (CSF) provide a really fun environment and are really welcoming and open to everyone," said merchandise and textile freshman Kathleen Meyer.
Animal science junior Marym Silva, an international student from Brazil, regularly attends events. "CSF is really good for international students, it's a great way to get to know people," Silva said.
"We thought it would be a good theme for winter, it's cool … literally," said CSF staff member Storey Morris.
"We want to provide a fun and healthy party to show students that following Jesus isn't boring," Morris said.
During the party there was no formal church service and a mix of top 40 and techno songs were played on the dance floor.
"We are known for our parties, we give students what they want," Thornberry said.
Kinesiology sophomore Matthew Hornback thinks that the organization does well in showing the love of Christ.
"Even if people don't come often, they know CSF is related to Christ, but what really connects students to CSF is the people here," Hornback said.