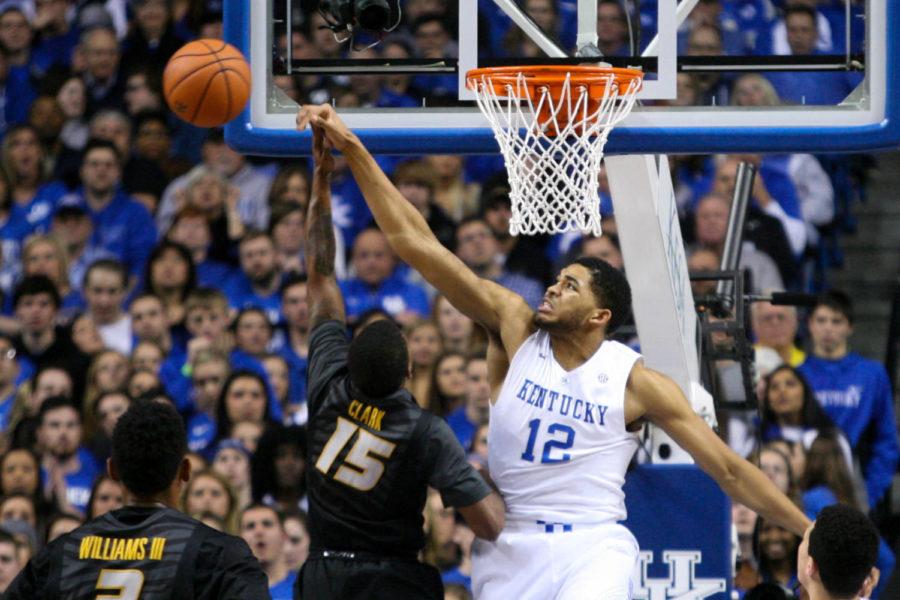 [data-ps-embed-type=slideshow] > iframe {position: absolute;top: 0;left: 0;}
By Kevin Erpenbeck
In its last two games, UK played with a flair for dramatics, needing three overtimes to win its first two SEC games of the season. Concern began to rise amongst the fans on whether this year's team could go undefeated before March arrived.
However, there was no need for panic in the third game as the Cats rolled over Missouri 86-37 to remain perfect on the season.
Head coach John Calipari brought back the platoon system in an effort to change the Cats' mentality on defense and maintain their stamina late in the game. The system was a breath of fresh air to the players who had done without the rotation for the past two games.
"Our defensive intensity because of the platoons was back to where it was," Calipari said. "No one got hurt today, everybody helped themselves as a player, and they helped our team. Their efficiencies were off the charts."
UK was physical on defense, holding the Tigers to 27 percent from the field and 1-for-18 from the three-point range. Missouri's season leading scorer, Jonathan Williams, only scored three points in the game; shooting just 1-for-13.
"I thought we really tried to force stuff," said Missouri head coach Kim Anderson. "You have to give Kentucky a lot of credit. You could tell that we had some guys that when (UK) got a little run going, we tried to force it and didn't execute. Their defense forced us to panic a lot offensively and got us on our heels."
Meanwhile, UK shot 48 percent from the field and were 8-for-18 from beyond the arc. Sophomore guard Aaron Harrison led all players with 16 points while missing just two three-point shots after going 2-for-13 against Texas A&M on Saturday.
Harrison said the team didn't let its recent struggles in the overtime games affect the overall attitude, and that the everyone made it a goal to play at the level they knew they were capable of.
"We knew we could play a lot better and had a lot more in us," Harrison said. "In the overtimes, good teams figure out ways to win. That's what we did. People were panicking, but we weren't."
Freshman forward Karl-Anthony Towns was ecstatic to see the platoon system make a return, as he recorded a double-double with 12 points and 10 rebounds while also blocking five shots. Towns believes the platoon system is the key to UK's success down the road, as it was earlier in the season.
"This platoon system is helping us greatly," Towns said. "I have a special group of brothers here that make anything we put our mind to work. The platoon system isn't about the talent, it's about the people. The brothers I have are not only making this platoon system work, but excel, and be a staple of what you can do."