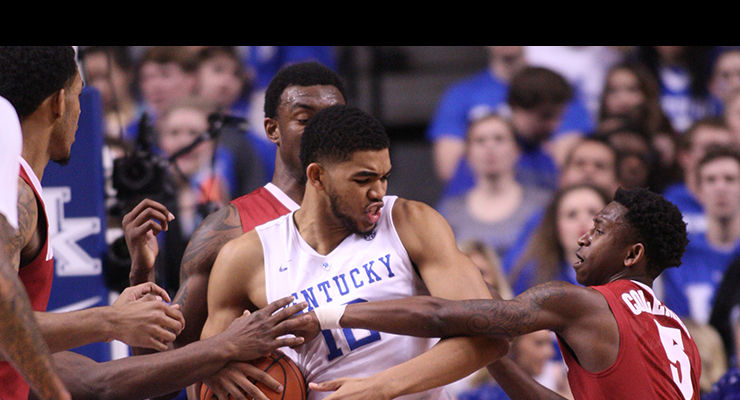 By Kyle Arensdorf
Freshman forward Karl-Anthony Towns took a huge step in his offensive progression in the Cats' 70-55 victory over Alabama Saturday.
Before the 2014-15 season, Towns was UK's highest-ranked prospect and expected to be the next man up in a long line of dominant UK big men.
He was never going to be the player who takes over a game night in and night out like Anthony Davis and Julius Randle had.
But expectations were still (perhaps unfairly) high.
Towns struggled to find his offensive game early on and as a result was in a slump for much of his freshman season.
And in seven SEC games, he's managed double-digit points only twice.
UK's most promising freshman prospect was starting to become its most disappointing.
But something has begun to shift in Towns' offensive mentality in the last two games.
It's difficult to take over a game in head coach John Calipari's offense this season; there are just too many offensive options.
And the Cats don't seem willing to feed the ball to one player all game, especially in a game that's never close.
So players have to make an impact on the game in small bursts.
And against Alabama, Towns' bursts rendered 12 points in just 15 minutes of play (he also accumulated five fouls in that time, making him a nonfactor in the second half).
"He was so good he looked like the best big man in the country," Calipari said of Towns' first half.
While there's a slight asterisk on Calipari's praise – no UK post player missed a shot for the first 17 minutes of play against the Tide's big men – there's no question that Towns was special in that first half.
He was more aggressive, his moves were sharper, he finished at the rim when opportunities were afforded to him, and he didn't miss a shot (4-for-4 on the night).
We saw the player that Towns has the potential to be.
But whether it's complacency or apathy, he just isn't that player in the second half.
"I told him, 'I don't know what you're telling yourself at halftime, but you better change,'" Calipari said.
Calipari's message all season has been that he doesn't know how good his guys can be.
We didn't see just how good Towns can be Saturday, but we did catch a glimpse.