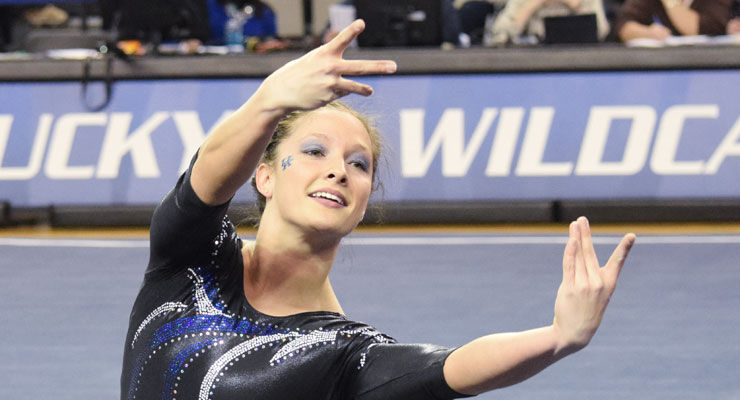 By Leslie Hobbs
After a night of career- and season-high performances, No. 24 UK gymnastics defeated No. 14 Arkansas 195.750-194.825 Friday night at Memorial Coliseum.
The program also honored highly-decorated alumni gymnast Jenny Hansen by retiring her jersey number during the meet.
In her four-year career from 1993-1996, Hansen won a record eight NCAA titles, earned 13 All-American honors and set a league-record of nine SEC championships. Hansen still holds every individual record in school history, including a 39.875 all-around, and is the first UK gymnast to have their jersey retired.
Head coach Tim Garrison was excited and proud of his athletes for their performance, setting a season-high overall score and a season-high 49.175 on the vault.
"A win in the SEC is always something special," Garrison said. "We have lots to build on but this meet was definitely something we can work from."
Senior Shannon Mitchell placed first overall on the beam, tying her career-high of 9.900. Mitchell said the team competed aggressively and with confidence and that she can't wait to get back in the gym this week to work on landings.
The Cats finished on beam with a team score of 48.950. Freshman Cori Rechenmacher set a career-high 9.875, finishing second overall in the event.
Placing first on the floor was sophomore Taylor Puryear as she tied her season-high in the event with a 9.850. Freshman Katie Carlisle set a career-high 9.800 on the floor for second place on the team.
Freshman Sydney Waltz made her career debut on vault and led the Cats with a 9.900. Waltz said there were a lot of improvements that paid off in the gym in the past week, but they "really need to work on the little things; landings, pointed toes and straight legs."
The Cats are on the road for their next meet as they face No. 2 Florida on Feb. 27.