Andy Landers shows full range of emotions in loss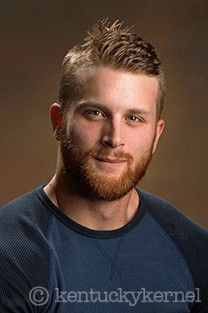 By Joshua Huff
Andy Landers, the four-time NCAA Coach of the Year and 2007 Women's Basketball Hall of Famer, has the air of a man who's been doing his job for a long time.
For 36 years Landers has prowled the sidelines as the Georgia women's basketball head coach. This is a feat touched by few, and in a world of rapid change, a feat difficult to repeat.
He stalked onto the court in Memorial Coliseum for a Sunday afternoon showdown against SEC-foe UK, a team that Landers' Bulldogs have had little trouble with in the past.
Landers' dark gray suit was unblemished. Loose, it hung on a frame that was slightly hunched, as if the weight of countless years of coaching were catching up to him. Yet he projected authority. His intensity was palpable, be it when he was pleading to his players or bellowing at a helpless referee. Landers has the air of a politician but the voice of a coach.
"We're either going to play here or sit down," he yelled after one possession with his team down early in the first half.
He's always animated while stalking the sideline. His slicked-back hair shining under the bright lights of Memorial, he wore a path into the blue paint on the court as he pleaded for his team which appeared flustered early against UK's defense.
"Let's go! Let's go!" Landers shouted, his hand clutching a rolled up batch of papers.
Even though he would yell, gesture, and jump up and down, the 62-year old would always return to the same position; arms crossed over his chest with a blank expression on his face.
It took until midway through the second half for Georgia to climb back into the game as UK's defense folded much like it had in the Tennessee game on Thursday, but it took Landers only four minutes into the game to be called for a technical, something not uncommon for him during his tenure.
His Bulldogs would eventually lose to UK in a heartbreaker. Falling behind late after fighting back from an early second-half deficit, Georgia crumbled to late-game heroics from UK senior guard Jennifer O'Neill.
The loss was Georgia's second in as many games. With No. 1 South Carolina on the horizon, Landers faces the prospect of losing three in a row.
With the poor play of his starters on Sunday, Landers may need someone near him keep an eye on his blood pressure.