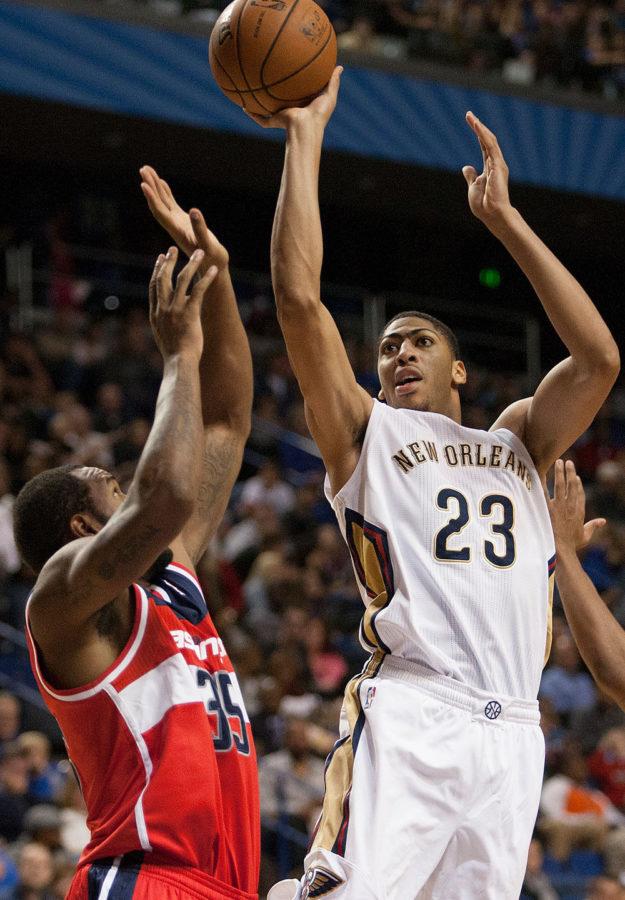 By Joshua Huff
Between Feb. 9 and Feb. 12, students and fans alike can take a picture and tweet Davis, who in turn will give fans a chance to win an opportunity to support him during the All-Star weekend.
Red Bull and New Orleans Pelicans All-Star forward Anthony Davis have teamed up for the release of a new Red Bull flavor called the Red Bull Yellow Edition.
The event is called #GivesYouBrow, a play on the new Red Bull Yellow Edition and Davis' signature "Eye Brow." The goal is for people to take a picture holding a yellow Red Bull can and to put on an "Eye Brow" and tweet the photos to Davis.
"It's a really cool concept," Davis said in an email to the Kernel. "We are having people wear their own yellow brows around the country … because the new yellow edition is my favorite can of Red Bull."
The contest is happening in four markets: New York, Chicago, New Orleans and Lexington, Ky. Davis will personally pick a winner in each region to win an autographed basketball and a case of the Red Bull Yellow Edition.
The 2012 NCAA champion with UK was just named to his second All-Star game and has quickly become one of the best players in the NBA. He has gone on record saying that his time at UK helped mold him into the player he is today.
"The people that surrounded our team on the coaching staff really helped me prepare for the NBA," Davis said. "I had some great teammates that that really worked hard on and off the court, and it resulted with us getting that ring."
Despite the success Davis had in his only season at UK, he believes that the current UK team, which is 23-0, has the chance to win it all.
"They are a really great team this season," he added. "They have a great group of players and a really great defense. They are the best team in the country."