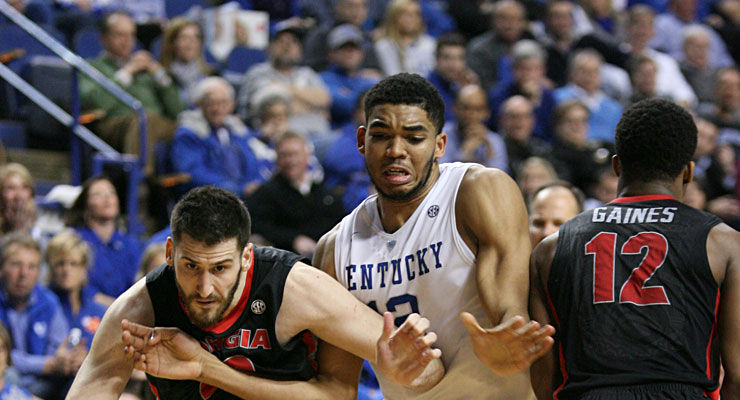 By Kyle Arensdorf
The Cats didn't have platoons Tuesday. They didn't have a rotation. They had a "Big Three."
The no-shows were abundant for UK on Tuesday, and seemingly the only players who felt like playing were Andrew Harrison, Aaron Harrison and Karl-Anthony Towns.
The three combined for 17 of UK's 25 total field goals.
Georgia probably should have won the game. UK played its worst team basketball, offensively and defensively, since October.
But if the Bulldogs were going to pull the upset, they couldn't make any mistakes; and they just made too many.
Georgia's first missed opportunity came in the final minutes of the first half when it held a five-point lead and had the Cats on the ropes.
But the Bulldogs had to be ready for the Cats to respond, and they weren't.
With just more than three minutes remaining in the first half, when UK looked as though it wanted to be somewhere else, Andrew Harrison strung together a few plays that gave the Cats their first real boost.
Down five, on consecutive possessions, Andrew Harrison hit a 3-pointer, came up with a steal, made two free throws, hit a jumper from the wing, and then drew a charge to finish a 7-0 run that put the Cats up by two.
The sophomore remained in attack mode for the rest of the night, but the second half belonged to Aaron Harrison and Towns.
Aaron Harrison has made a habit of coming up big for UK in tight road games. And as a response to his brother's 7-0 run in the first half, he began the second with a 9-0 run of his own.
With the exception of Tuesday's game, the Cats have been rather untouchable as of late. Part of that has been the out-of-nowhere play of Trey Lyles (who had a measly two points on Tuesday), but it's also because of Towns' emergence as the best player in the conference, and arguably, in all of college basketball.
When Towns gets both of his feet in the lane with the ball, he can score just about every time — something he could teach Dakari Johnson and Willie Cauley-Stein to do — and UK finally caught on to Georgia's low-post deficiency in the second half, which was the difference in the game.
The Cats played about as well as they could down the stretch. And this game may be the best indicator of UK's poise to finish out a perfect run.
But Georgia certainly didn't do itself many favors.
When UK should have been feeling the pressure of losing a perfect season, the Bulldogs sunk under the weight of ruining an upset bid.