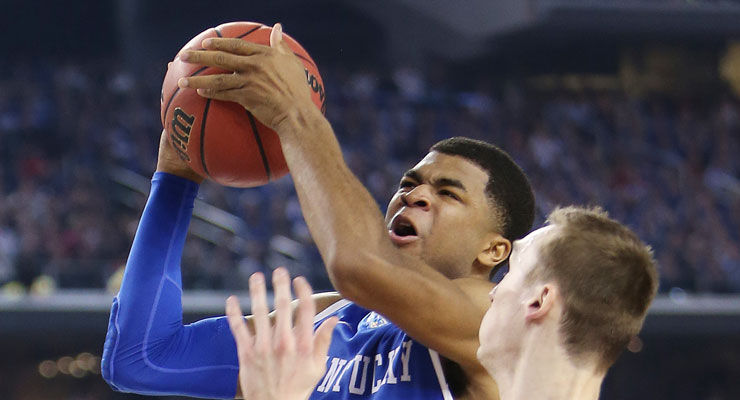 By Joshua Huff
Wisconsin poises the same offensive dilemmas that plagued UK against Notre Dame in the Elite Eight.
The Irish's ability to spread the floor, minimize opposing post players and open lanes for guards to dribble-drive, nearly spelled doom for the Cats. Fortunately for UK, its defense locked down in the final two minutes to hold Notre Dame scoreless in a 68-66 win.
UK though, faces nearly the same spread offense Saturday when Wisconsin squares up against the Cats in the Final Four. The Badgers, however, add size and methodical proficiency to the equation. Much like Virginia prides itself on slowing the game down defensively, Wisconsin spreads the ball in the half-court and baits the defense into mistakes.
The Badgers use of v-cuts, shuffle cuts and pick and roles cause mismatches up and down the board. As a result, guards end up defending forwards and centers end up guarding guards, a lethal setup that Wisconsin takes advantage of with a seven-rotation roster of bigs who can play any position, shoot threes and are deadly from inside the paint.
Wisconsin boasts of three starters who are all taller than 6-foot-8 that shoot over 50 percent from the field. Forward and 7-footer, Frank Kaminsky is the Badgers' hit man, shooting 54 percent from the field and 41 percent from three, an impressive percentage for a big man. Those stats are elevated because of Wisconsin's offensive makeup.
The guard initiates from the right top of the key, dishes the ball into the block. If no shot is available the forward will dish to the left wing and with the use of cuts and pick and rolls, players like Kaminsky and Sam Dekker drift to the perimeter with wide open threes. Wisconsin's ability to shoot a high percentage has been its calling card all season due to quick passing and movement.
The way UK can counter is to control the offensive glass, improve its pick and roll defense and speed up the tempo. Willie Cauley-Stein should guard Dekker, limit his ability from three; Karl-Anthony Towns should get Kaminsky and Trey Lyles should get the savvy forward Nigel Hayes.
The key for UK this game will be Andrew Harrison's ability to drive and create plays. The faster the Cats play the better. Wisconsin only runs seven deep. In a loss to Duke in December, Wisconsin was unable to contain a speedy Tyus Jones, who used his speed to dominant the lanes.
If UK can push the tempo on offense; get points in transition; disrupt Wisconsin's half-court offense and stop a hot-shooting Dekker, the Cats should move onto the Championship game.
Play like they did against Notre Dame and the trip back to Lexington, Ky. will be a long, sobering ride.