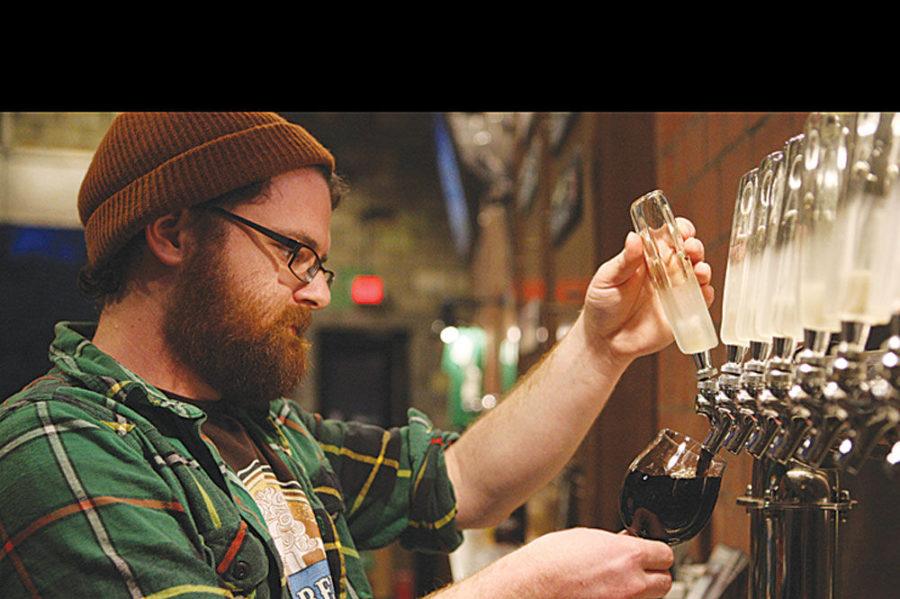 By Cheyene Miller
Ethereal Brewing co-founders Andrew Bishop and Brandon Floan were attending UK when craft beer began to play an instrumental role in their lives.
"I was 19, brewing in my stovetop on State Street," said Bishop, noting that he was able to get the materials to make beer before he was able to buy beer itself. "I'd say about three years after that is when it turned into something a little more serious."
Eight years later, in December, Floan and Bishop opened Ethereal Brewing in the Distillery District on Manchester Street.
Bishop said he and Floan went to high school together and had been brewing separately until they tried each other's beer.
"We kind of realized what the other person was doing, so we decided kind of as a hobby to brew together," Bishop said. "After a while we realized that we had to figure out what we wanted to do for a living."
Floan's family lives in North Carolina, where craft beer is a booming industry, according to Bishop.
"He was able to see how this industry kept growing and growing, and how it had been almost untapped here in Lexington," Bishop said. "We offer a product that people are just now getting in the habit of learning to appreciate."
Floan said he and Bishop try to make brewing an art and don't treat it exclusively as a way to make money.
"We're very passionate about making the best beer we can possibly make," Floan said.
Both UK fans and Lexington natives, the duo said the higher prices of craft beer tend to put a limit on the number of students they see.
"Craft beer is a little bit pricier than grabbing a case of Natty (Natural) Light," Bishop said. "The wallet dictates."
Bishop said that Ethereal has three staple drinks — their oatmeal stout, their India Pale Ale and the Belgian-style saison.
Floan and Bishop both said they hope to be one of the first breweries in Lexington to have a line of sour beer, which uses brettanomyces, a type of yeast found on the skin of certain types of fruits.
"They produce all sorts of non-traditional beer flavors," Floan said.
Floan said Ethereal is the only brewery in Lexington that uses a "dedicated yeast lab," and they have a chemist that comes in and helps with the brewing process.
"There's very much a large science side to it," Bishop said.
The brewery gets about 500 to 600 customers in a given week, with 150 to 200 during the weekends, Bishop said.
Beer drinkers can choose from six types of beer at Ethereal, but Floan and Bishop said they hope to bump up to seven or eight in the near future, and continue to increase the popularity of craft beer in Lexington.
"We have some pretty neat ideas that we're looking to roll out once we get our feet under us," Bishop said.