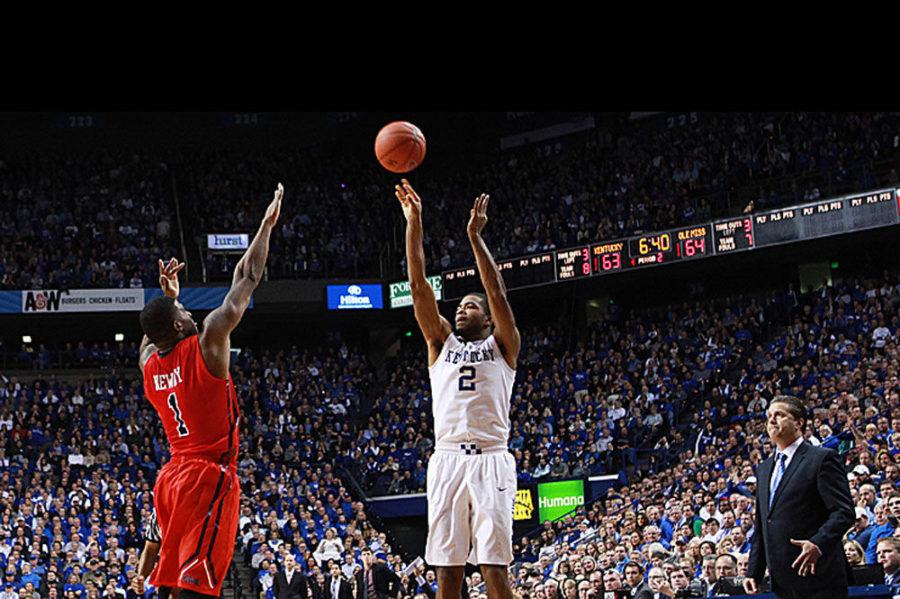 By Kyle Arensdorf
Tournament time is just over the horizon, and teams are tuning up for the most pressure-packed part of the season.
But for the Cats, beating Florida Saturday could put an end to any hopes of ruining their perfect 40-0 season.
The only teams that have gotten close to blemishing UK throughout the season have been ones it hasn't taken that seriously.
Non-conference opponents such as Buffalo and Columbia (which has as many losses as wins this season) held leads against the Cats after the first half of their respective games.
Middle-of-the-pack SEC teams such as LSU, Vanderbilt, Florida and Georgia haven't received the Cats' full attention and have been able to take them to the wire.
The third- and fourth-best teams in the SEC (Ole Miss and Texas A&M, respectively) pushed UK to overtime, but one could argue it was a result of the Cats' first taste of physical conference play. Not to mention the back-to-back games came after three tough games against No. 21 North Carolina, UCLA and No. 4 Louisville.
Conversely, when the Cats get up for an opponent, or they decide to send a message, there isn't much a team can do but watch it happen.
It's been the case all season. No. 5 Kansas, the Cats' third opponent of the season, was the first to experience the blur of a fully-committed UK team, which left Kansas head coach Bill Self at a loss for words after the game.
The next ranked opponent in the Cats' path was No. 6 Texas, who fell by 12 points, then it was No. 21 North Carolina, who lost by 14.
But maybe the best example of UK's ability to flip a switch and take down a troublesome opponent came Feb. 28 when it faced the second-best team in the SEC, Arkansas, a team many thought could be a potential streak-breaker.
The Cats took this as an opportunity to dismantle the Razorbacks, who were in a 31-point hole with nearly eight minutes left in the game when UK took its foot off the gas and allowed them to cut the deficit to a final of 84-67.
It's apparent that when the Cats are motivated, they take their game to a level that's unmatched in college basketball. And there's no better motivation than a single-elimination tournament.
So if prior evidence is any indication of things to come, Florida may be the final road block in UK's coronation into college basketball history.