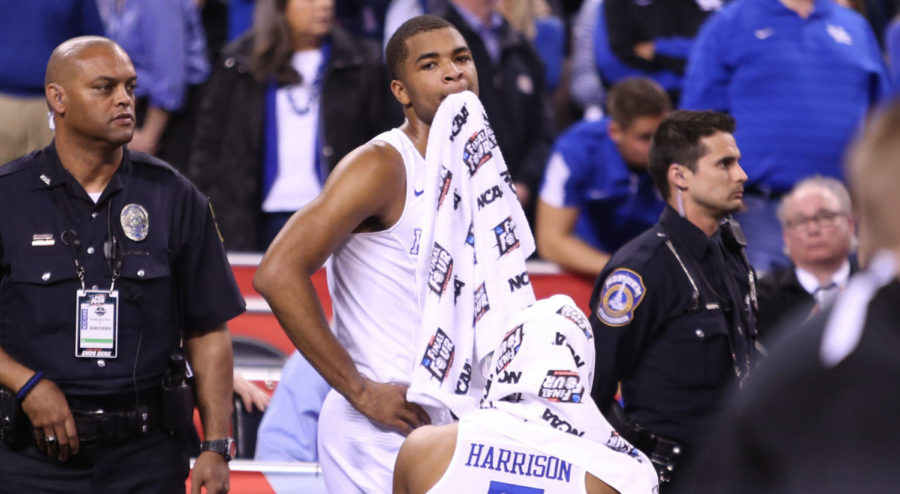 By Kyle Arensdorf
The most unbelievable season in UK history came to an equally unbelievable end Saturday.
When the Cats blew out West Virginia by 39 points a week ago they had all the swagger in the world. No one could get in their way of perfection. It felt like destiny.
But that Sweet 16 game seems like five seasons ago now.
"I'm just lost for words," Willie Cauley-Stein said in a somber locker room after the game. "It's surreal." Perhaps it feels so surreal because UK did what it's done all season when it faces late-game adversity – suffocate its opponents into submission – and it wasn't enough against Wisconsin.
The Cats finally started to rebound the ball after a first half in which they were outrebounded by Wisconsin on the offensive end 7-1. They locked down defensively and were actually getting stops on a Badger team that seemed unable to miss. And they grew a 4-point lead with five minutes remaining in the game.
UK took control of the game just like it has against all 38 teams it's faced this season, the 39th just took it right back.
After they built that 4-point lead, head coach John Calipari and the Cats decided to sit on the ball and begin their offense when about 10 seconds remained on each shot clock. Though Calipari said that wasn't the plan.
"We didn't slow it down," he said. "We were still trying to post the ball, still trying to run pick-and-rolls. They guarded us a little tight, the guys got a little tentative."
Regardless, Wisconsin capitalized and scored 15 of the next 19 points to finish the game.
All-in-all, UK had the game under control and in their favor. It just couldn't corral a team that refused to beat itself. Wisconsin isn't the better team. But it played a better game than the Cats did Saturday. And just like that, UK's whole season is a wash.
It's extremely difficult to win an NCAA Championship, and the best team seldom comes out on top. But that's the precarious nature of the NCAA Tournament. Put young, unexperienced kids in a single-elimination tournament in an unfamiliar environment with unfamiliar officials, and you'll receive painfully uniform parity. You'll receive madness.
As a result, UK's pursuit of perfection falls short, its 40-0 "pursuit of perfection" prospects reduced to "38 and the only one that really matters."