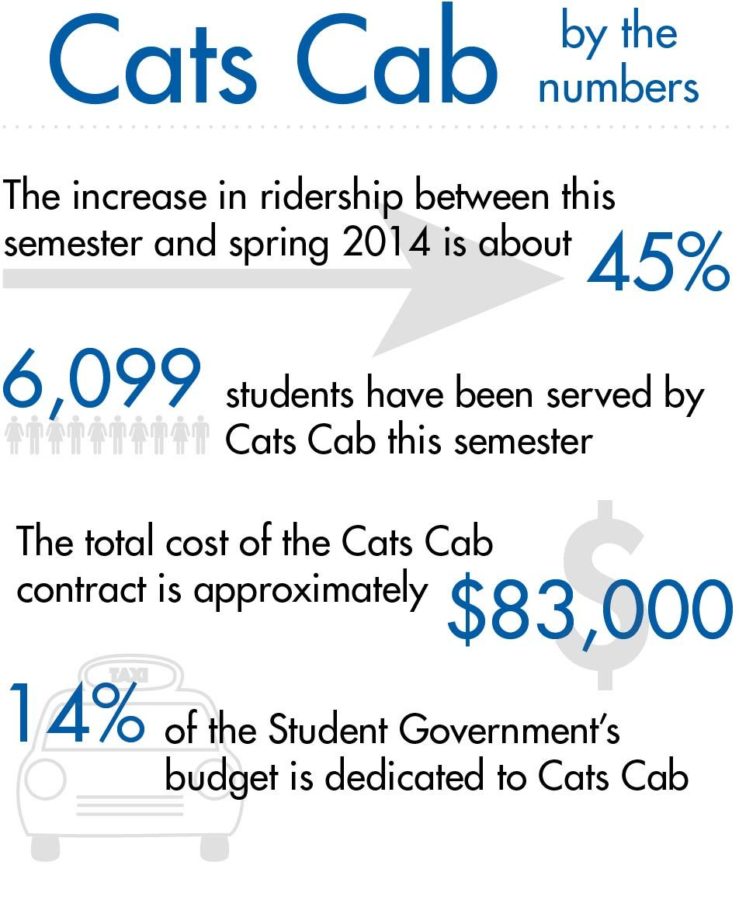 By Cheyene Miller
The addition of two more vehicles to Cats Cab led to a 45 percent increase in ridership from last year's spring semester according to Cats Cab program director Joseph McClure.
"Since the addition of the two new Cats Cabs, we've seen a significant rise in the total number of students served," said McClure, noting that Cats Cab served 2,322 students in the first six weekends of spring semester last year, and that the number has increased to 4,254 this semester.
McClure said that the total semester ridership so far is 6,099, and is on pace to be at over 10,000 by the end of the semester.
"I'm pleased with what we've seen," said McClure, who noted that his team is "always looking for ways to make the program run more efficiently."
According to McClure, cancellations since last semester have decreased, and riders served per hour per cab have increased.
"The new cabs have decreased the late times as well as increased the total number of riders," McClure said.
The program now has seven cabs total, and McClure said that it would be up to the next administration whether or not to add more vehicles.
"That's something that we'll evaluate moving forward," McClure said. "The potential is there to add more cabs."
McClure noted that when trying to find ways to make Cats Cab run efficiently, one must factor in how to both serve more number of students while simultaneously cutting down wait times.
According to McClure, the current contract for Cats Cab costs $83,000 meaning the Cats Cab program comprises about 14 percent of SGA's $600,000 budget.
The previous five-cab annual contract with Bluegrass Cab cost $63,000 paid for by student fees, making the current contract total a near 32 percent increase from the previous deal.
Originally the cost was supposed to be partially supplemented by the executive vice president for finance and administration Eric Monday, but the full price ended up being covered by student fees as there was enough money in the budget, according to student body president Jake Ingram.