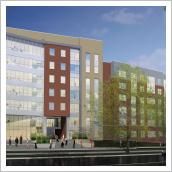 By Joshua Qualls
UK's Board of Trustees approved the next phase of the university's student housing makeover on Friday.
A new dorm, called University Flats, will be built on University Drive across from Chandler Hospital, and will house 771 beds and cost $74 million.
University Flats will create new living space primarily for upper-class, professional and graduate students, though non-traditional students may apply to live there as well. It is expected to be completed by the fall 2017 semester.
The university, with its private partner EdR, has built new residence halls with space for nearly 4,600 beds since 2013. The University Flats, combined with the new Limestone Square dorms to be completed by August 2016, will push the number to more than 6,500 new beds on campus.
Six of the eight Kirwan-Blanding low-rise dorms will be shut down prior to the Fall 2016 semester because of the opening of Limestone Square. The two remaining dorms will shut down before the Fall 2017 semester following the completion of other residence halls, including University Flats.
The Kirwan-Blanding dorms are the last of the "UK Traditional" residence halls, which cost about $1,000 less per semester than the dorms built with EdR. UK-managed apartments and Greek housing, and the Kirwan-Blanding rooms, are the only remaining living spaces on campus that cost less than $3,000 per semester.