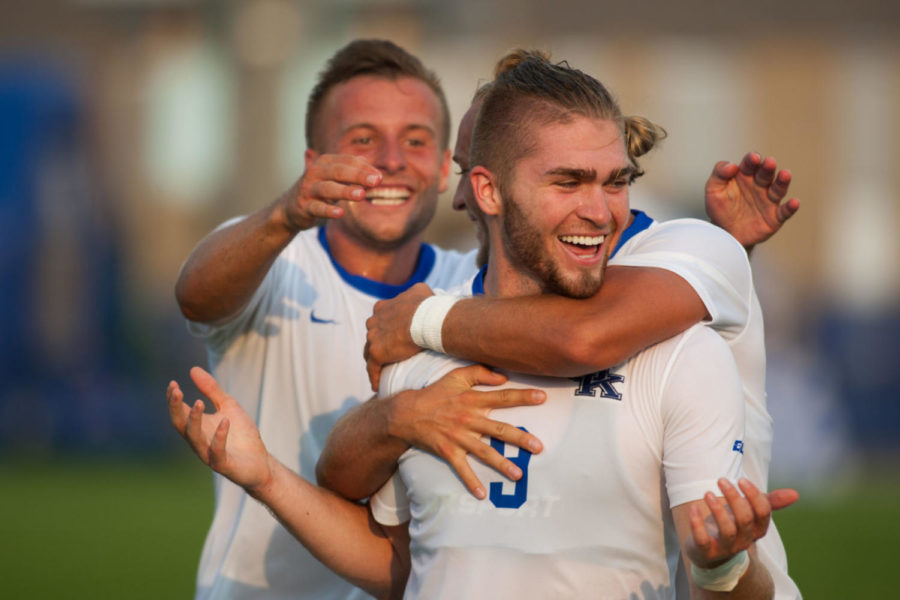 By Arpan Dixit
The UK men's soccer team completed its second straight comeback, defeating Wright State 2-1 Friday, scoring two second half goals.
UK sophomore Andrew McKelvy was pleased with the Cats offensive performance.
"It definitely helps out because we won," McKelvy said. "We know we have a very good defense and we're going to work really hard to get some clean sheets, but the fact that we are scoring goals on offense is great."
The Cats started off the game controlling possession until lackadaisical play kicked in.
Wright State sophomore midfielder A.J. Paterson scored the first goal of the game for the Raiders in the 18th minute off an assist by sophomore defender Austin Polster.
The Cats had many opportunities that couldn't be utilized in the first 20 minutes of the game.
After Wright State scored its first goal, the physicality of the game turned to another level. Hard fouls were being called for both teams the first 30 minutes, but no cards were issued.
"It was a rough game. Wright State plays extremely hard and we knew before the game we had to come out and battle. It was a long 90 minutes," said sophomore midfielder Noah Hutchins.
Possession was back and forth heading into halftime as both schools had opportunities to score, but weren't able to capitalize.
The first yellow card of the game was handed out in the 42nd minute to Wright State sophomore midfielder Sam DeRoy after a vicious tackle on UK junior midfielder Napo Matsoso.
The cats headed into the half trailing to the Raiders 1-0.
The Cats knew they had to start off the half focused in order to not repeat last year's performance against the Raiders, which resulted in a 1-0 loss in Fairborn.
Senior goalkeeper Callum Irving was seen directing and leading his team before the 2nd half whistle, and it seemed to pay dividends.
Once again, the Cats scored early in the 2nd half. Hutchins scored off a Matsoso corner kick in the 56th minute, which seemed to ignite the Cats play.
"Last year they came out and defeated us at their place, and so we knew coming into this game we had to match their physicality and intensity and I think we did that," said McKelvey.
McKelvey did just that. The sophomore scored the game-winning goal in the 80th minute off of a corner kick to give the Cats the 2-1 lead.
After a vicious tackle on Matsoso, Wright State junior defender Jake Stovall received 1 of the 3 red cards handed out in the final 10 minutes of the game.
The game ended with words said back and forth between the two head coaches, Johan Cedergren and Bryan Davis, leading to red cards for both teams and an automatic ejection for the coaches.
The Cats will be back on the pitch Tuesday as they head on the road to face in-state rival Louisville.