Local restaurant brings international flair downtown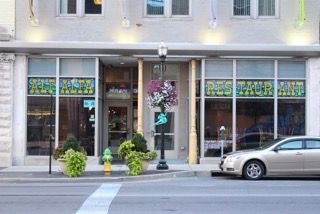 By Joshua Qualls and Lawrencia Dixon
People from every walk of life call Lexington their home — which is why Alfalfa, a locally-owned restaurant, decided long ago to include some international flair as part of its repertoire.
A group of UK students founded Alfalfa in 1973. It originally occupied the block across South Limestone from Gatton College, and it relocated to 141 E. Main St. downtown in 2005. The restaurant has a wide variety of dishes, from breakfast to dinner and vegetarian options to burgers, but it also hosts International Nights on Wednesdays from 5:30 p.m. to 9 p.m.
According to Alfalfa's chef, Paul Nowacki, Alfalfa had hosted International Nights for many years by the time he was hired in 1997.
Although Nowacki graduated from UK in the mid-90s with a Bachelor's Degree in psychology, he  said he wanted to cook because he enjoyed it and he was good at it.
He lived with several musicians in college, and when they all got home late from shows he would make them pancakes.
Nowacki was vegetarian at the time, and said he liked Alfalfa because it was one of the few places in town that served vegetarian dishes. This prompted him put down the diploma and pick up the spatula.
Going to the restaurant for International Nights was an event for people, Nowacki said. Connecting different cultures through food was a great way for people to socialize and make new friends, but it also helped the restaurant attract more business.
Despite the popularity of International Nights and having a supportive vegetarian community in Lexington, the restaurant endured some hardship over the years. Alfalfa originally served only vegetarian dishes, and it had already introduced meat to the menu to make up for some loss of revenue by the time Nowacki started working there.
"Like many restaurants downtown, (Alfalfa) has suffered a lot," Nowacki said. "Alfalfa is kind of an older institution, so it wanes in popularity from time to time."
Alfalfa stopped hosting International Nights in 2008 because the crowd began to fade, and the restaurant established a single menu because they thought it would be best under the circumstances.
Nowacki left Alfalfa to work for UK in 2012. While he was at UK, he was attracted to the International Student Council's International Dessert Competition because he had spent so much time preparing the menus for Alfalfa's International Nights and thought it was a great way for students to learn about new cultures on campus.
Nowacki returned to Alfalfa in 2014 when Aramark took over UK's dining services, and the idea of bringing back International Nights quickly gained momentum. International Nights resumed in February this year.
Bringing back International Nights is a way Nowacki said he could reconnect with the vegetarian community and get back to Alfalfa's roots. Besides that, he said it is also more fun for their customers these days because Alfalfa now has a liquor license.
Nowacki said he tries to be conscious of seasonally-appropriate dishes during International Nights. Though it typically revolves around a three month schedule and repeats many of the same styles of cuisine, he is not likely to serve heavy German food in summer or lighter Caribbean dishes in winter.
He usually has an idea of what he's going to serve from the schedule, but he occasionally likes to change things up a bit when he learns something new. He said he's been particularly interested in learning more about Scandinavian and Canadian food lately, and he may try to incorporate a taste of those styles into his offerings for International Night sometime in the near future.
Nowacki said he also enjoys recreating the food of his Polish ancestors, but his favorite style is Caribbean because he and his wife, who he met while they were both working at Alfalfa, have traveled it extensively and fell in love with the islands. He said they love the Caribbean so much they got married in Puerto Rico.
"We really want to go to Japan but it's egregiously expensive and we can't afford it," said Nowacki, whose visit to Hawaii was the only time he has been to any Pacific islands so far. "We'd love to visit Indonesia and Malaysia, too."
Nowacki will be serving up his take on Indian cuisine to guests at Alfalfa's International Night this week.
"(Paul) is really amazing at what he does," said Karissa Arnold, an employee at Alfalfa. "He always amazes me."