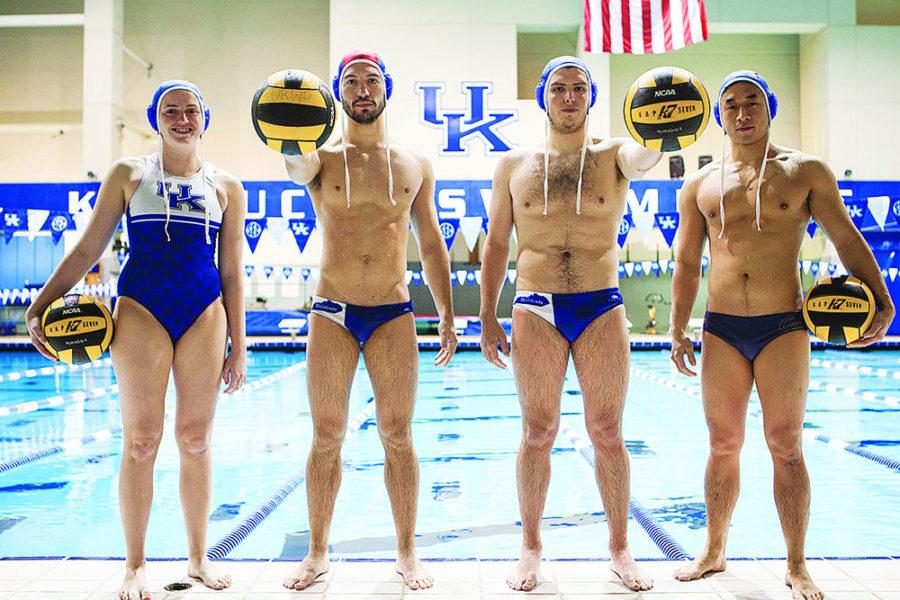 By Sarah Brookbank
Swimming for two hours at a time is a feat of strength in and of itself, but to members of the Water Polo Club, it is all in the name of the game. They run plays, pass, block and tread water through the course of every two-hour practice, three times a week.
UK's co-ed Water Polo Club practices long and hard in preparation for their tournaments, though they are hard to come by for the team. Chemical engineering and math junior Nolan Anderson is vice president of the water polo club.
Anderson has been swimming since he was five, and while looking for colleges, decided to look into water polo. Anderson joined the team at UK as a freshman.
"We've gotten a whole lot more competitive since my freshman year," Anderson said. "We've been progressing very quickly."
Anderson said this year especially, the team has had a large number of recruits who want to learn and improve.
"I would like to see us join a league, because right now we're just playing tournaments here and there. Joining a league, we would be able to play against the same competition and develop into a more traditional team," Anderson said.
However, joining a league costs money, which isn't something the club has lying around. It costs a minimum of $2,000 to join a league like the Collegiate Water Polo Association, where the Water Polo Club would face off against familiar schools like Georgia, Auburn and Alabama.
Mechanical Engineering junior John Leanza is the coach of the water polo team. Leanza said they try to play three tournaments a year, and travel to Ohio, Tennessee and Indiana.
Despite their lack of funding, they still compete with other schools. They have played Tennessee, Ohio State, the University of Cincinnati and Purdue to name a few.
"We're definitely improving. It's kind of hard (during tournaments) because all those other teams have players who have been playing for a long time. We're the only team in Kentucky," Leanza said.
Leanza started swimming at age 10, and started playing water polo to keep busy in the off season. He said his experience playing has been a valuable asset.
"The best water polo players are the people that can really see what is going on and can anticipate what's going to happen next," Leanza said. "You can be in really good shape, but if you don't have that game experience, you're not going to be great."
Both Leanza and Anderson said that between recruiting during K Week and trying to spread the word through students, they hope they can keep gaining players.
"Water polo is a really fun sport, and even if you don't have a lot of experience, it's easy to pick up," Anderson said.