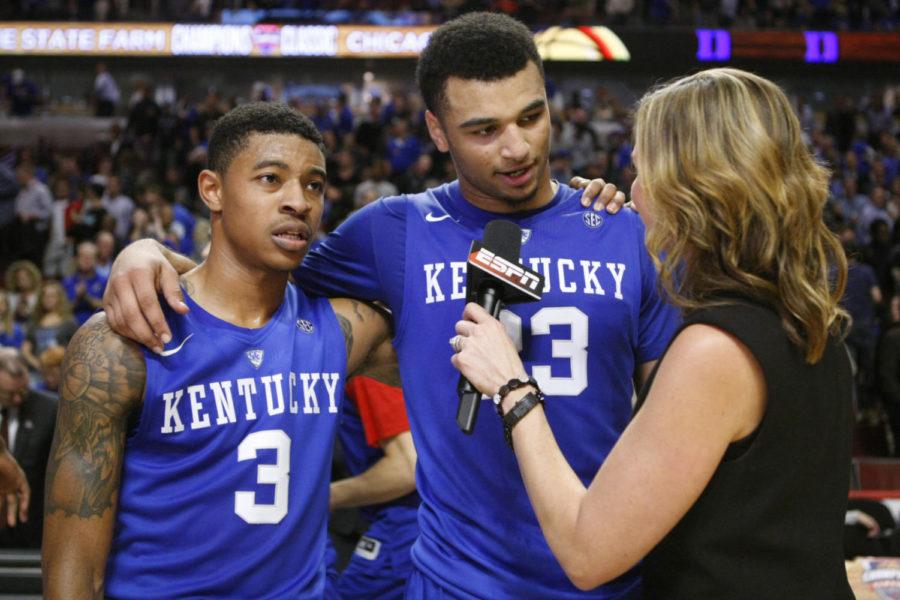 By Jordan Ondrof
UK moves to 4-0 in the season, beating Wright State 78-63 on Friday night.
Tyler Ulis proved himself one again in a game that featured 50 fouls. The sophomore point guard lead the team with 21 points, playing the majority of the game.
"If we can't win without him on the floor, he'll be in every minute," head coach John Calipari said. "When he went out, we let them back in it."
Wright State had over 33 fouls in the game and had two players foul out in the second half.
"I like the rules. It makes you stay in a defensive position," Calipari said. "If you don't, then they're calling fouls. I thought that, again, there was some pushing and shoving in the post that I was on, because it's not — that's the rules. That's an absolute foul. And so there were a lot of fouls and there should have been."
One of the players that fouled out was a part of a scuffle that landed him and Jamal Murray a technical. This was Murray's second technical in only four games.
"I'm disappointed and I said something to him," Calipari said. "We'll address it. He didn't say anything, he didn't swear or do anything, he just said, but he walked to the guy when he said something. You can't — you got to be smarter than that."
Guard play continues to lead this team as 3 of the 4 highest average scorers come from the Cats starting guards, Ulis, Murray and Isaiah Briscoe. Murray and Ulis are both averaging 14 points a game while Briscoe is averaging 12.7 points.
"I don't know if I've ever competed against a team that plays three point guards at once and that's really hard at the same time all of the time. Every closeout they put you in the ball's going to a point-guard, and that's really difficult," Wright State head coach Billy Donlon said.
Alex Poythress continues to improve game after game. The senior finished with a double-double, scoring 10 points and grabbing a team high 10 rebounds.
Dominique Hawkins and Issac Humphries sat on the bench tonight. Calipari said Hawkins has a stomach virus and Humphries has a bruised foot but claims both will be fine.