Five Designers Share 2022's Hottest Trends for Hardwood in the Home
(NewsUSA)
– With its beautiful looks and remarkable durability, Real American Hardwood™ has long been a beloved material in American home interiors. "Homeowners are always looking for fresh and exciting ways to use wood," says Linda Jovanovich of the American Hardwood Information Center. "They often find inspiration in the work of the best architects, designers, and decorators, sought-after talents who offer trendsetting ideas on using oak, maple, walnut, and other classic species." So, we checked in with five of the most accomplished residential designers in the business to uncover the top trends in hardwood for the year ahead — and beyond.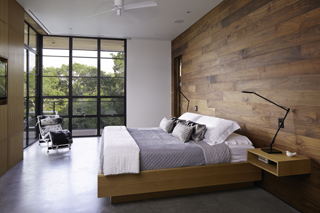 Hardwood planks on walls and ceilings: The ultimate flooring material is used increasingly to clad vertical and overhead surfaces, as in this contemporary Austin bedroom by Texas-based Cornerstone Architects (@cornerstonearchitectsllp), where an entire wall of walnut boards brings warmth, color, and texture to the sleek, modern interior. "It's plain sawn with a natural oil finish," notes principal Bob Wetmore. "That makes it a bit more rustic by showing a lot of grain." Photograph by Andrew Pogue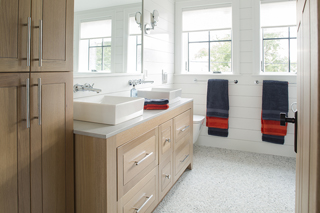 Hardwood in the bathroom: Today's designers look at bathroom vanities and cabinets as if they were stand-alone pieces of fine furniture, specifying solid hardwood construction and elegant hardware. For his own house, architect Donald Powers of Union Studio in Providence, Rhode Island, (@unionstudioarch) used quarter-sawn white oak everywhere, including for bath cabinetry. "We chose a very simple palette throughout," he says. "It's peaceful rather than exciting, and that's exactly what we wanted." Photograph by Anthony Tieul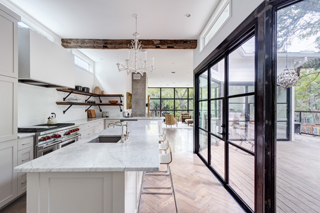 Herringbone hardwood floors: Although herringbone flooring, which uses solid hardwood blocks to create a geometric pattern, originated in 17th-century France, it can fit seamlessly into contemporary settings. "Whitewashed oak gives traditional parquet a modern vibe in this Texas kitchen," says Carina Coel of Austin-based Restructure Studio (@restructurestudio), who worked with the homeowner, an interior designer, on the project. It's elegant and timeless but also a little bit country, thanks to the finish. Photograph by Michael Hsu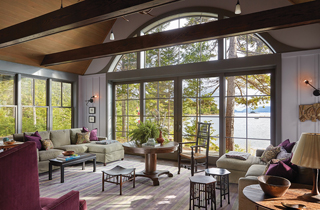 Exposed Wood Beams and Trusses: "Wood beams overhead can help to create architectural drama," says New York-based designer Glenn Gissler (@glenngisslerdesign), who used them to striking effect in the living area of a new Maine lake house. "They also establish a human scale in an oversize room with a soaring ceiling like this one." Expect to see more of them if the trend toward bigger and bigger houses continues. Photograph by Jonathan Reece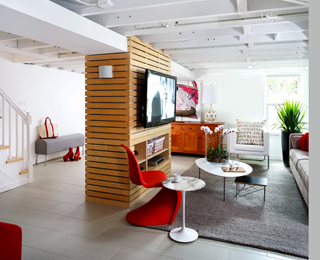 Wood slats: Surfaces clad with vertical or horizontal wood slatting have become ubiquitous in recent years. Slats can add visual and architectural interest to an interior while maintaining a sense of lightness, as is the case in this basement rec room remodeled by Chevy Chase, Maryland-based architect Bruce Wentworth (@wentworthstudio). "We hid columns with a poplar-slat enclosure," Wentworth says. "It anchors a seating area while accommodating a TV and storage."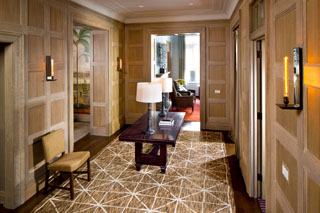 Cerused oak: This distinctive finish, known in Britain as "limed oak," dates back to the 16th century, but it's becoming popular again for furniture and panelling, as in this Greenwich Village townhouse, another project by Glenn Gissler (@glenngisslerdesign). "Traditional oak panelling might have been too overpowering for this hallway," Gissler notes. "But by cerusing the wood-applying a white pigment that reveals grain lines and lightens the color slightly-the space looks fresh and modern." Photograph by Gross & Daley
Visit www.hardwoodinfo.com for more about trends in American hardwoods.