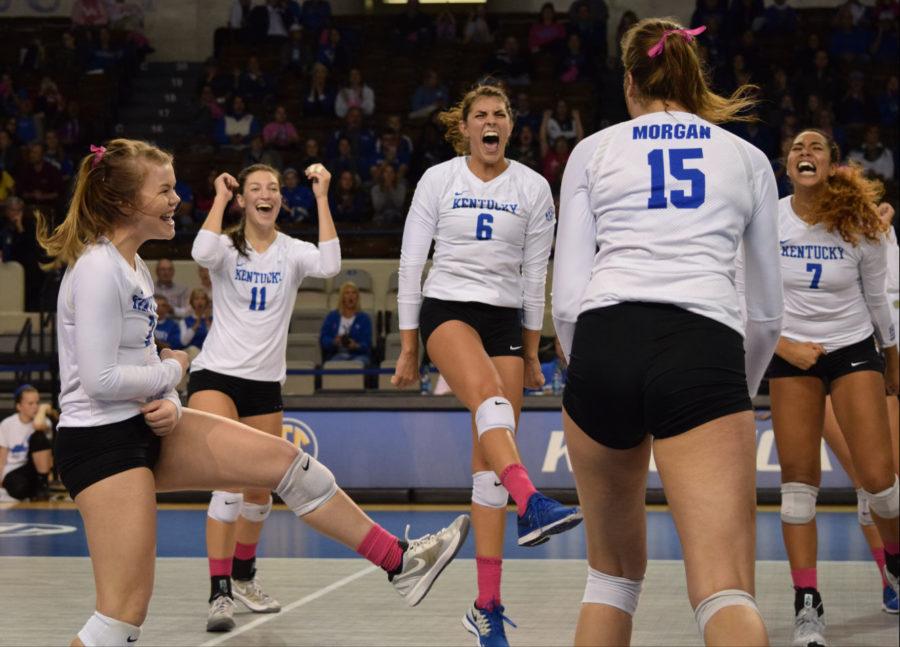 UK Volleyball has gone to the NCAA Tournament 11 consecutive times.
During the Cats' streak of 11 straight NCAA Tournament appearances one thing has been a constant: coach Craig Skinner, who in the last game of the season won his 250th career match.
Skinner is the all-time career leader in wins as the UK women's volleyball head coach and has changed the culture of volleyball in Lexington.
In Skinner's first year as coach he took UK to its first NCAA Tournament appearance since 1993 and won the 2005 SEC Coach of the Year award.
This season Skinner has faced new challenges with 10 of the 13 players on his team being underclassmen, including seven who play regularly.
"The upperclassmen have had a challenge to not only prepare themselves, but how to mesh with freshmen and sophomores and new people in the lineup," Skinner said.
The team also had dealt with additional adversity despite finishing second in the SEC going 14-4.
"Last year, to be honest, when we got to (the NCAA Tournament) I thought everything was pretty smooth. There were not a whole lot of ups and downs," Skinner said. "This year we finished second and I felt like there were always constant challenges whether there was a schedule, an injury, being on the road three straight matches or coming from behind or losing a really tough one to Missouri in the fifth game."
UK Volleyball's young talent includes Ashley Dusek, the 2015 SEC Libero of the Year, Kaz Brown, who finished second in the nation in blocks per set during the regular season, and Brooke Morgan, who was on the 2015 SEC All-Freshman Team.
Dusek continues a long lineage of stellar play from the libero position as she became the fifth libero in the last six years to win the SEC Libero of the Year award at UK.
Skinner proceeded to talk about how Dusek has evolved as a player this year and her play as a libero.
"Ashley Dusek, you know, also had a breakout year – someone who was kind of in the background of Jackie Napper last year," Skinner said. "(Dusek) made herself become SEC Libero of the Year which is something this program has been very proud of the last few years."
Dusek and Brown also were on the 2015 All-SEC Team with senior setter Morgan Bergren.
"Morgan was All-SEC again and she excelled in a lot of different areas that she has had in the past and showed some great upperclassmen leadership," Skinner said. "She always has had to be able to just kind of be herself and do her thing."
Bergren also had 1,126 assists, which was more than 83 percent of the Cats' assists during the regular season.
Brown finished second on the team in kills with 300 and also had 178 total blocks during the season.
"Kaz Brown had a breakout year in the middle and just dominated and I think finished second in the country in blocks per game which is a pretty significant accomplishment for a sophomore," Skinner said.
Skinner pointed out the one trait he believes separates this year's volleyball team from previous teams he's coached.
"It's an individually competitive group. I'd say top to bottom every single player on this team is extremely competitive and they do not take losses very well," Skinner said. "They see victories but they see the things they can do better. I think we've seen more people study film, study what they're doing individually, study what their improvement has been throughout the year."
This level of competitiveness has created a special bond among the team.
"When you have that individually it is an investment in yourself and your team, that makes you want to compete harder for each other. So I think that's probably a thing that stood out this year," Skinner said.
Despite the winning culture Skinner has created at UK, he has never been able to win a National Championship during his tenure as the head coach.
After losing to Ohio State in the second round of the NCAA Tournament last year, UK suffered another early exit from the tournament. UK lost in three-straight sets to American University (26-24, 25-17 and 25-21) in the first round of this year's NCAA Tournament.
Next year's team will feature a roster cluttered with returning players and more upperclassmen, who will likely be hungry to make up for another early tournament exit next season.