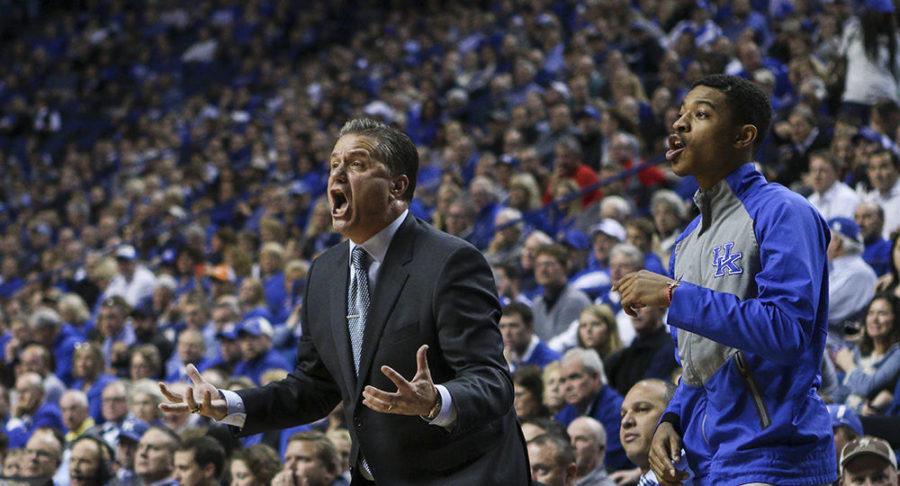 By Jordan Ondrof
One thing became certain in the Cats 75-63 win over Illinois State on Monday, the Cats need Tyler Ulis.
Ulis, head coach John Calipari's 'floor general,' has always been considered an important piece of this team, but it has never been clearer than when UK was tied with Illinois State at halftime.
"Without Tyler (Ulis), it's obvious we're not the same team," Calipari said. "I mean, unless you were watching another game, we're not the same team. But it still doesn't mean that we shouldn't play hard and guys shouldn't battle and fight for balls."
The Cats struggled to find any kind of offensive rhythm without the presence of Ulis. The guard play was sloppy and turnover-prone for the majority of the game, committing 15 turnovers.
"Tyler is one of our leaders. He runs our pack, he is our well-oiled machine and makes everything flow perfectly," junior forward Marcus Lee said.
Freshman forward Skal Labissiere had another ineffective first half, only scoring one point, and it was off a free throw. Unlike previous games, Labissiere was unable to get it going in the second half, becoming visibly frustrated.
The Cats were able to pull it together in the second half, partly due to the efforts of Lee and freshman guard Jamal Murray. Murray struggled in the first half but came out strong in the second half to finish with 16 points.
"It was 31-31 at first half, so we looked at it as 0-0. We had to go in there and prove them wrong, but in the second half we picked up the defense," Murray said. "(Junior guard Dominique Hawkins) did a great job of guarding. (Senior forward Alex Poythress) and Marcus did the same thing."
Lee brought a much needed energy boost to the team, blocking shots and dunking the ball.
"(Lee) was great today," Calipari said. "Boy was he good. If Marcus Lee doesn't play, we lose. Because I had to get Skal out and I had to get Alex out. I tried to play Derek (Willis) and, again, you see him in that isolation, having to guard the ball, he's struggling."
Hawkins changed the game, coming off the bench to bring a veteran presence to a frantic team.
"Again, the guy that changed the game was (Dominique Hawkins). Dom did what he did at the Michigan game a couple years ago," Calipari said. "He went in and guarded that player and said I can do it. And then he made some free throws."
Calipari said the team needed Ulis, and he was proved right tonight.