Students should support programs that aid homeless during winter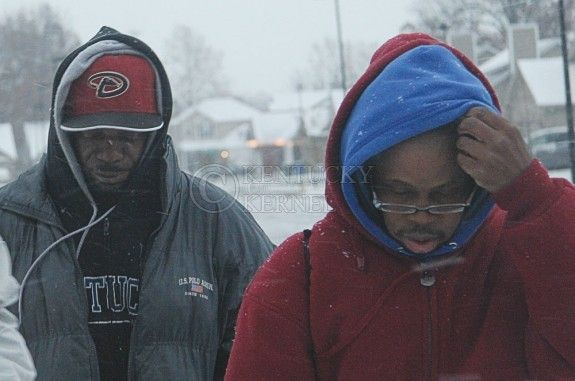 Friday's snow day brought joy to UK students and faculty who could use an extra day off, but for Lexington's homeless population, it was a threat to their lives. 
A man died of hypothermia Jan. 12 behind Wildcat Wearhouse, the UK apparel store near campus. 
More than 1,200 people in Lexington are homeless, and hunger affects even more. UK students have the chance to curb those numbers with initiatives as close to home as their residence halls. 
Give & Go is a program that allows students to donate non-perishable food and reusable household items during move-out. 
Recycling and Surplus Coordinator Mari Long said the program has been going on for years but just started putting out the bins at the end of the 2015 fall semester. 
Last semester's donations alone were 22 bags of more than 1,100 pounds of material that went to the Hope Center Recovery Program for Women in Lexington. The Hope Center is one of four 24-hour emergency shelters in the city and beds as many as 800 people in a night.
Students moving out of dorms have food, bedding, toiletries and even clothes that they could do without when they go home or move off campus. More often than not, these items are thrown away or stored up. In reality, not many off-campus students sleep in extra-long twin beds or use shower caddies. 
Long said students donate more during the spring semester, and bins are available in each dorm. Residence Life picks up the donations, and students don't even have to leave the dorms. 
For students off campus, emergency shelters like the Hope Center, the Salvation Army, the Community Inn and Arbor Youth Services' MASH Drop Inn Center always accept donations and look for volunteers, especially in the colder seasons. 
Lexington's emergency plan provides transportation and housing for the homeless population. So if students cannot donate or volunteer, they can contact mobile programs like the HopeMobile Car Patrol or the Compassionate Caravan, which offer transport to emergency shelters if volunteers become aware of someone in danger because of the cold weather.
Students may not have much money to give, but donations of old bedding, snacks that won't be eaten, and even coats or boots that don't fit anymore can keep another person or family from suffering this winter.