To the first president of UK's Black Student Union, activism was crucial part of college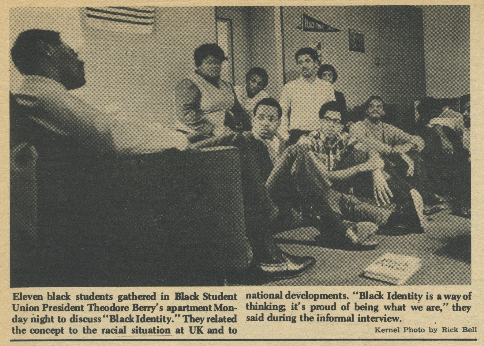 It was Dec. 5, 1967. UK played Illinois State, and Memorial Coliseum shook with racial slurs.
The event bothered Theodore Berry, then one of the few African-American students on campus, so much that he said he didn't attend another game until Rupp Arena opened almost a decade later.
But he did protest them.
"I was an activist student," Berry said of his time at UK. "I was busy working on projects to make the university better."
As the first president of the Black Student Union, Berry and other students gathered in front of Memorial Coliseum to protest the lack of integration on the basketball team and its staff. Berry said gathering people wasn't difficult because, with only 100 students, everyone was connected.
But the BSU did more than just gather for protests, they created the first UK course to teach African-American history, literature, anthropology, and art. Berry said the response was overwhelming and that a large number of whites and blacks took the course.
The group held receptions and events to gather not only black athletes and students, but also faculty and staff members. Berry said the point of these events was to show potential community members the presence of minorities.
"I'm not claiming to be the only one," Berry said.
Other classmates, like Bill Turner and Jim Embry, as well as professors and Keller Dunn, associate dean of admissions, helped Berry to get programs and student organizations started. As well, Berry said student news outlets were instrumental in helping cover and spread awareness about what the BSU was doing.
"It was the kind of environment where there were waves of whites. It looked like a river coming towards you," Berry said. "There was no such thing as diversity."
The BSU also worked to create scholarships through the UK College Preparatory Program, which allowed high school or nontraditional students to take classes at UK over the summer. The program paid for books, tutoring and transportation, according to Berry. He also said that many of these students went on to attend UK.
Berry graduated in 1969 with a degree in English education, but returned to get his law degree. While at UK Law School, Berry and others created a Counseling and Legal Educational Opportunities program.
"I don't think there was another school who had their own CLEO program," Berry said. "I'm very proud of it."
The program provided students with tuition, room and board, and a stipend to study counseling and law before they entered law school.
Berry graduated in 1972, and went on to work at several integrated law firms.
"Back then I was young and bold," Berry said. "I didn't have any qualms."
Berry is the longest and oldest African-American lawyer in Lexington, and started practicing in Oct. 1973. He said he believes his firm was the first integrated law firm in Kentucky, but he cannot confirm that.
While not affiliated with any civil rights organization, Berry said he still attends meetings and gives his input, especially on issues like racial disparity in the school system.