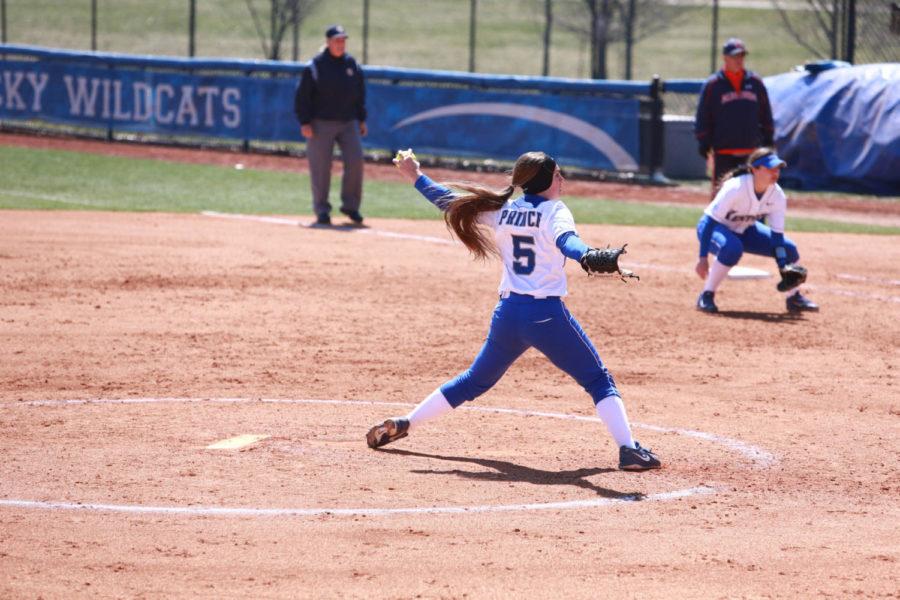 UK junior pitcher Meagan Prince made history in the Saturday afternoon matchup against the South Dakota Coyotes, as she earned her first career no-hitter on the mound, leading the Wildcats to a 10-0 shutout victory.
Prince absolutely dominated on the day, pitching in all five innings played with nine strikeouts, zero hits, zero runs, and zero walks. This was the first no-hitter thrown by a UK pitcher since Lauren Cumbess accomplished the feat in February of 2014 against Louisiana Tech.
The junior pitcher was helped out tremendously by the UK offense, as it shredded the USD pitching corps with ten runs on ten hits.
Nine batters managed to get hits today, including Abbey Cheek's three-RBI off the wall in the first inning. Cheek's big hit was only the beginning of the team's impressive scoring display on the afternoon.
Freshman Katie Reed managed to hit yet another home run on the year, her third in the last three games. Reed has quickly developed into a reliable batter for the Cats, and hopes to become one of UK's next big stars at the plate as her experience grows.
With the victory, UK moves to 8-2 on the year, with a matchup following against the Texas Tech Red Raiders in the Campbell/Cartier Classic finale.