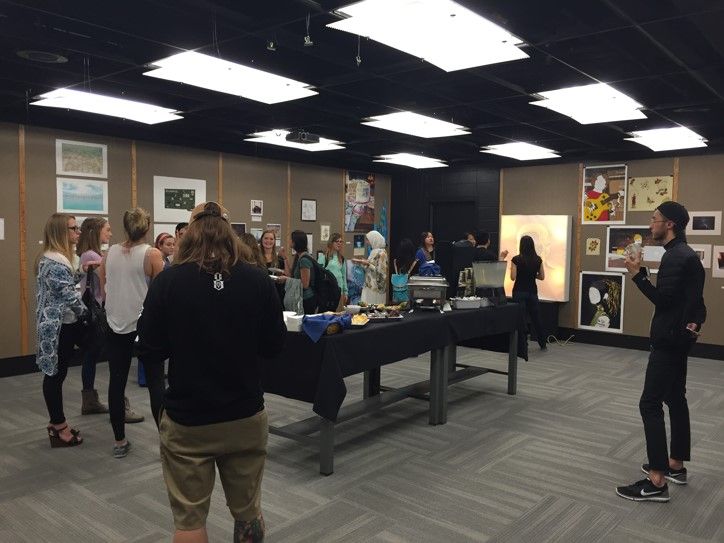 This Thursday, the Student Activities Board held its fourth annual Young Artists Exhibit and Competition for students to showcase their art.
The event was not just limited to fine arts students, it also featured works from engineering and architecture students. A prize of $750 scholarships was given to three winners, one selected by a judge's panel and two others by the public. 
"The Young Artists Exhibit and Competition has gone on for the past four years. This is our fourth year annually. It had a short run four years back but we had to re-brand it and reformat it so students could have a say in who won the awards. It's just a chance for other students to see the work of students who may not necessarily be in the College of Fine Arts or College of Design," said Taylor Hamilton, an international studies senior and director of SAB's Cultural Arts committee. "We've had a lot of success in the past and we've always had artists asking to use the Rasdall Gallery space when we had the Student Center, and so this competition provide a way for many students to host and show their works at the same time."
The event hosted a total of 11 artists and showed an array of works. The winners were Alan Serna, Amy Hoagland and Meredith Matia.
"I think it's really great that SAB is getting students together to promote student artworks to the university community. I think it's an area that they are lacking, and I thinks it's really great that they are doing events such as this to promote the student art sector at UK," said Amy Hoagland, a senior with a bachelor's in fine arts and sculpture, and one of the two public's winners. "All of my work is focused around nature, so they all incorporate natural elements that reflect human interactions with nature and how humans change the land."
The overall and judges' winner was Alan Serna, a first-year graduate student majoring in art studio, who is originally from Mexico. 
"It was just a shot in the dark, you know, (graduate) school and materials are expensive, just to diverted it a little bit," Serna said about why he entered the competition. "(My) pieces themselves are more a commentary on how consumer culture from the United States kind of influences the culture in Mexico, so kind of how those cultures affect each other and have a language that kind of goes back and forth through these consumer products and consumer culture."